Polish businesses are supporting the fight against the coronavirus by donating to hospitals, as well as extending free services to encourage Poles to stay safe and sane during the outbreak.
Sportswear manufacturer 4F, which kits out the Polish Olympic team, is selling a special T-shirt as part of a campaign to support hospitals, reports Business Insider. Proceeds from the garments, which are currently available for pre-sale at 49 zloty, will be used to purchase essential medical supplies.
4F's owner Igor Klaja said that the company was working with the health ministry to make sure that the hospitals with the greatest need would be helped. "We have selected suppliers providing us with specialist protective masks for medical personnel and overalls," he added.
The firm is also adapting its production to meet current needs, as other companies and institutions are approaching them with enquiries about protective and medical equipment. According to Klaja, they are able to transport masks from Asia to Poland within 7-10 days.
"We have the uniformed services, firefighters, police units, social organisations asking us. You could say that 4F is very rapidly converting to production of medical wear at the moment," he said.
Pomagaj całym sobą! Na 4F.pl wystartowaliśmy z przedsprzedażą t-shirtów – cegiełek 👕, ze sprzedaży których całkowity…

Opublikowany przez 4F Środa, 18 marca 2020
Polish food producer Maspex is another company pitching in to help hospitals. Business Insider reports that the company is donating over a million of its products, including Lubella pasta and Tymbark juices, to 21 hospitals around Poland this week.
The products, which also include ready meals and dietary supplements, "will make their way to patients and doctors, nurses and personnel, who are today standing on the front line of the fight against the coronavirus", said Maspex in a press release.
Colian, owner of the Goplana and Grześki chocolate brands, is likewise donating 160,000 of its sweets to hospitals. "We can at least thank the medical staff for their efforts and sweeten these tough moments for them," said Jan Kolański, head of the company, as reported by Salon24.
Several other companies have donated to hospitals, including the construction company Calbud, leather-goods producer Kazar, and CCC, the largest shoe company in Central Europe.
Meanwhile, Agata, a large family-owned furniture company, has donated a million zloty for the purchase of medical equipment and protective gear for medical personnel.
Agata S.A. zdecydowała o przekazaniu 1 000 000 zł służbie zdrowia na zakup sprzętu medycznego i środków zabezpieczenia…

Opublikowany przez Salony Agata Sobota, 14 marca 2020
At the onset of the crisis, state-run energy firm Orlen announced that it would produce one million litres of disinfectant to help deal with the outbreak. After initially facing criticism for then selling the product in its petrol stations, the company argued that it was doing so "well below" market prices.
Nevertheless, the firm then decided to reduce the cost by around a third, as well as stepping up production to 2.5 million litres in March and 4.5 million in April, reported Radio Zet. It has also announced it is sending the product to doctor's surgeries around the country.
Orlen was also joined by Polfa Tarchomin, a state-owned chemicals plant, and KGHM, the national mining giant, with the latter aiming to produce 20 tonnes of disinfectant per day for the next two weeks.
The government has also harnessed the efforts of Poland's flagship carrier, LOT. After cancelling international air and rail traffic over the weekend, the airline has launched an operation to return people stranded abroad to Poland at subsidised prices.
As of Friday, LOT had completed 121 flights and brought back 18,035 people to Poland, all of whom are required to enter compulsory quarantine.
Smaller businesses are also chipping in. In Zielona Góra, the Polish city that recorded the first confirmed case of the virus, a flower wholesaler delivered 3,500 tulips to the local hospital as a sign of gratitude to nurses and doctors, as well as a show of support for patients, reported Gazeta Wyborcza.
In Białystok, the largest city in northeastern Poland, an organisation of psychologists and psychotherapists is offering a free hotline to ease the mental strain of the crisis, especially for doctors, nurses, police officers, pharmacists and people who have been quarantined, reported Gazeta Wyborcza.
Moreover, a number of restaurants have joined the "meal for a doctor" campaign, delivering free meals to medical staff held up for long shifts in hospitals. In Warsaw alone, there are over 60 restaurants participating in the campaign and around 400 across the country, reported Salon24.
As the campaign to encourage people to stay at home (#zostańwdomu) has gained traction, several businesses have expanded their online offering, following in the tracks of shutdown cultural and educational institutions.
Empik, Poland's leading chain of multimedia stores, is offering free access to over 11,000 audiobooks, e-books and podcasts via its app for the next 60 days.
Supermarkets, which have remained open, have also taken precautions to diminish contagion, including limiting the number of customers allowed in the store at the same time and installing plastic screens in front of cashiers. Żabka, one of the largest chains of convenience stores, has also pledged to contribute 4.5 million zloty to the health ministry's efforts to tackle the virus.
One of Poland's biggest chains of convenience stores has responded to coronavirus by allowing only 5 people at a time in stores, installing plastic screens in front of cashiers (who wear medical-style gloves), and asking customers to queue 1.5 m apart and pay by card, not cash pic.twitter.com/jwwgjNrvCj

— Daniel Tilles (@danieltilles1) March 17, 2020
The number of coronavirus cases in Poland had reach 378, including 6 deaths, as of Friday, according to government data. For all of our coverage of the emergency in Poland, see our constantly updated archive of stories here.
Main image credit: Widzialna Ręka – Zielona Góra/Facebook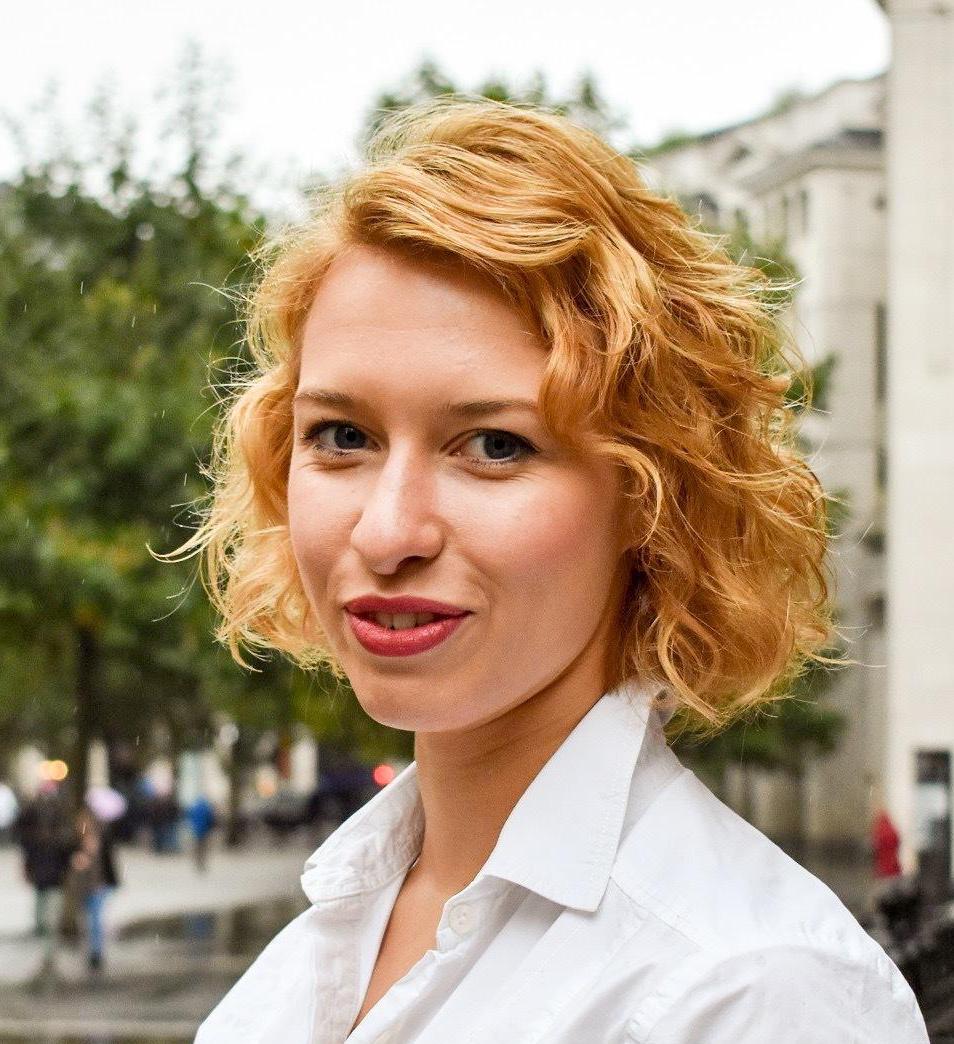 Maria Wilczek is deputy editor of Notes from Poland. She also contributes regularly to The Economist and Al Jazeera, and has also written for The Times, Politico Europe, The Spectator and Gazeta Wyborcza.