"Climate" (klimat) and "LGBT" have been named the Polish words of the year for 2019 by an expert panel and in an online poll, reflecting two of the issues that dominated political and public debate in Poland last year. Other popular choices were "feminative" (feminatyw) and "scooter" (hulajnoga).
The results of the Word of the Year vote, which has been organised annually since 2011 by the Institute of Polish Language at the University of Warsaw in conjunction with the National Centre for Culture and Polish Language Foundation, were announced at a press briefing on Friday.
A panel of linguists chose "climate" as their word of the year, followed by "LGBT", with "feminative", meaning a feminine form of a noun (particularly used in reference to job titles), in third place, reports the Science in Poland website.
The results of an internet poll were also announced. This time "LGBT" narrowly beat "climate" to claim the top spot – each word had almost 10% of the vote. The third most popular word was "scooter", a mode of transport that has soared in popularity in Polish cities, with "feminative" just missing out on the podium.
According to panel member Prof. Jerzy Bartmiński, the choice of the word "climate" shows what was important to many Poles in 2019. "Climate pays no heed to state borders and should force countries to work together, but our politicians concentrate on elections, not people's real problems. The choice of 'climate' as word of the year is a telling sign, a warning signal."
A further round of youth climate strikes have been held around Poland today, with thousands of youngsters skipping school to "remind politicians of their responsibility…to conduct climate policy based on science" #strajkklimatyczny https://t.co/3ByoUQfgDR

— Notes from Poland ?? (@notesfrompoland) November 29, 2019
Poland's reaction to climate change and environmental issues became an increasingly fraught battle line in 2019. The ruling Law and Justice party (PiS) created a new climate ministry after the elections, with its head Michał Kurtyka saying: "We cannot avoid our responsibility when it comes to our planet."
But Poland is still reliant on coal for 80% of its power, with the government committed to keeping it as the main source of energy for decades to come. Air pollution has also become a topic of heated debate in recent years, with Poland having some of the most deadly air in the European Union.
Last month, Polish prime minister Mateusz Morawiecki announced after the European Council summit that Poland had not signed up to the EU's goal of reaching climate neutrality by 2050, incurring a warning from French president Emmanuel Macron that Poland could face isolation and a loss of EU funds as a result. "Poland will reach carbon neutrality at its own pace," Morawiecki said, adding that his country was "in a different position" from other EU states.
Announcing the Word of the Year results, Prof. Marek Łaziński said that usage of the acronym "LGBT" had increased hugely in 2019. "The word appeared in the Polish public space in the mid-90s…but from a purely statistical point of view, this was the year of LGBT, without a doubt," he said, quoted on the website Głos24.pl.
Opposition to so-called "LGBT ideology" was a key strategy of PiS's election campaigns in 2019. Jarosław Kaczyński, the party's chairman and Poland's de facto leader, warned that the "LGBT movement imported [into Poland] threatens our identity, our nation, its continued existence, and therefore the Polish state".
The European Parliament has passed a resolution condemning "attacks against the LGBTI community in Poland, including growing hate speech by elected officials and public media" and the establishment by local authorities of "zones free from LGBT ideology" https://t.co/Msz6VV397I

— Notes from Poland ?? (@notesfrompoland) December 18, 2019
In October, government figures condemned the annual "Rainbow Friday" initiative, which aims to show support for LGBTI children in schools. Archbishop of Kraków Marek Jędraszewski described "LGBT ideology" as a "rainbow plague", likening it to Nazism and Bolshevism. He also who also recently warned of the perils of "ecologism".
The European Parliament voted to adopt a resolution that condemns discrimination against LGBTI people in Poland, particularly the fact that some Polish local authorities have declared themselves "free from LGBT ideology", noting that 80 areas in Poland have declared themselves free from "LGBT ideology" or adopted family charters discriminating against single-parent and LGBTI families.
But others in Poland sought to promote LGBT rights. A record number of LBGT Equality Parades were held in Poland, attracting large crowds. The opposiiton mayor of Warsaw, Rafał Trzaskowski, signed a declaration promising to introduce measures to support LGBT people.
The choice of the linguistic term "feminative" (feminatyw), referring to feminine forms of job titles, in particular posłanka to mean a female member of parliament, also represents an ideological battle. Following the parliamentary elections in autumn, a group of MPs insisted that they should be allowed to use such forms in parliament rather than the standard male forms.
Electric scooters have become a common sight in Polish cities in recent years, but lack of proper regulation and some high-profile accidents have also made them controversial.
A 4-year-old has been hospitalised with serious injuries after being hit by a British man riding an electric scooter in Kraków's Planty park.

Rental scooters have become common in Polish cities. A recent report found they have caused hundreds of injuries https://t.co/tSJvrQv5tV

— Notes from Poland ?? (@notesfrompoland) August 19, 2019
In the 2018 Word of the Year poll, "constitution" (konstytucja) was the clear winner in both the expert poll and the public vote, ahead of szumidło (meaning an audio jammer used to prevent bugging of private conversations), "smog" (referring to Poland's air pollution issues), "data" (dane, highlighting debate over the GDPR) and "independence" (niepodległość, as Poland celebrated its centenary as an independent country that year).
Main image credit: Michał Maciąg/Greenpeace/Flickr (under CC BY-ND 2.0)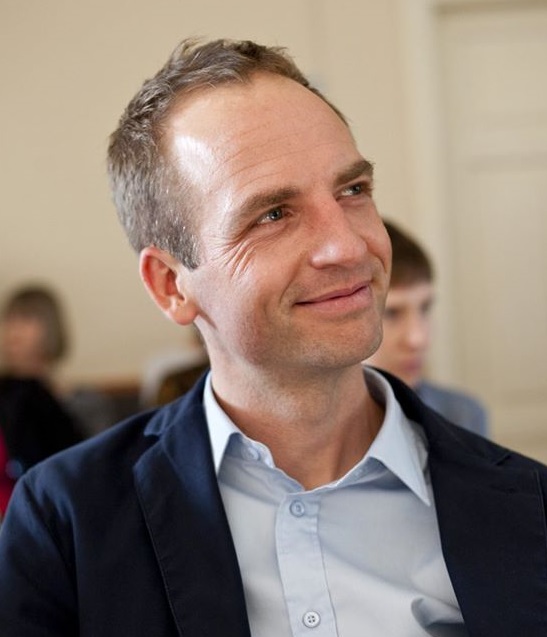 Ben Koschalka is a translator and senior editor at Notes from Poland. Originally from Britain, he has lived in Kraków since 2005.