A number of Polish local government authorities say they will sue the people behind an interactive online "Atlas of Hate", which depicts areas of Poland that the creators say have adopted anti-LGBT resolutions.
The municipalities in question, which have adopted a "Charter of Family Rights" written by the conservative legal organisation Ordo Iuris, argue it is wrong to have included them on the map of "discriminatory resolutions", reports news website Onet.
Many media reports, in both Poland and abroad, have identified the municipalities as declaring themselves "free from LGBT ideology" or even "LGBT-free". In fact, the family charters they have adopted do not mention "LGBT" explicitly.
They do, however, contain a declaration of support for "marriage as [being] between a woman and a man" and for "the right of parents to raise their children according to their beliefs and the right of a child to be protected against moral corruption".
The latter two arguments are commonly used by conservatives protesting against the introduction of sex education classes, which some argue are being used by LGBT groups to "sexualise children" and even prepare them for abuse. Ordo Iuris has itself explicitly called for "the defence of children against gender policy and LGBT ideology".
A representative of Ordo Iuris, which approached the municipalities offering to support them in a potential lawsuit, argued that their inclusion in the Atlas of Hate is "based on false premises".
"In recent months we have observed a series of untrue…accusations against local authorities," he said. "We are dealing with an array of lies, untruths and manipulations that defame residents and local government members who have decided to put family first."
Onet also quote Maria Barbara Chomicz, a local government official. "For many years our county has been family-friendly", she said. "It was with enormous concern, and even fear that I received the information that we were doing something wrong. It is not true. As a representative of local government…I do not agree to anybody saying that we discriminate against anybody."
Ordo Iuris say they have received the go-ahead from an unspecified number of local authorities to sue the authors of the Atlas of Hate. The organisation will be seeking a public apology at the Polish Press Association and in the European Parliament, as well as damages to be paid to charity, Onet reports.
A French commune has broken off its partnership with a Polish town that declared itself "free from LGBT ideology".

The commune is near the site of a WW2 camp that was used to imprison homosexuals. "History likes to repeat itself," said a French official https://t.co/5geGJi5uFq

— Notes from Poland ?? (@notesfrompoland) February 17, 2020
However, Kuba Gawron, one of the creators of the Atlas of Hate, told Onet that they were not worried by the threats, adding that they had already secured legal support.
The map they have produced charts Polish provinces (voivodeships), counties (powiat) and municipalities (gmina) – most under control of the ruling Law and Justice (PiS) party – that have passed some form of resolution declaring themselves free from so-called "LGBT ideology" or committed themselves to abiding by Ordo Iuris's family rights charter.
Poland's anti-LGBT resolutions have gained international notoriety, particularly after activist Bart Staszewski hung "LGBT-free zone" signs outside towns which have passed them. Some observers outside Poland, including MEP and former Belgian prime minister Guy Verhofstadt, wrongly assumed that the signs were official.
In December, the European Parliament adopted a resolution condemning discrimination against LGBT people in Poland, including the alleged declaration of "LGBTI-free zones" in many parts of the country.
International media have also been paying close attention to the phenomenon. The BBC's LGBT correspondent Ben Hunte this week tweeted that he had been investigating "LGBT-free zones" in Poland, and seen some "scary" and "horrific" things.
Fellow British broadcaster Channel 4 then posted a video in which a reporter met Staszewski and other LGBT activists in the Polish countryside and claimed that "one third of Poland is a gay-free zone".
In actual fact, no municipalities have explicitly declared themselves "LGBT-free". Some have have adopted the family charters, while others have declared themselves "free from LGBT ideology".
The latter term is used by many conservatives in Poland, who argue that they are not opposed to LGBT individuals but rather to an alleged attempt to impose a certain belief system on Poland. The Archbishop of Kraków, Marek Jędraszewski, has called "LGBT ideology" a "rainbow plague" and likened it to Nazism and Bolshevism.
PiS last year made opposition to "LGBT ideology" a central feature of its election campaigns. The party's leader, Jarosław Kaczyński, declared that Poland must "defend children and normal families" from the "imported LGBT movement", which "threatens our identity, our nation, its continued existence, and therefore the Polish state".
PiS's Senate Speaker has shared an anti-LGBT graphic of the type often used by nationalists.

Alongside, he quotes Kaczyński saying, in reference to Warsaw's LGBT declaration, that PiS will not allow 'attacks on children, will not be intimidated and will protect Polish families' pic.twitter.com/Ddvzzo0anj

— Notes from Poland ?? (@notesfrompoland) March 10, 2019
Critics, however, argue that there is no such thing as "LGBT ideology", and that the term is used merely as an excuse to attack and stir hatred towards the LGBT community and individuals within it. This has resulted in a growing atmosphere of hostility towards LGBT people, including threats to their physical safety.
Last year's LGBT Equality Parade in Białystok was violently attacked, while a couple in Lublin were recently sentenced to prison after being caught bringing explosive devices to a protest against the city's parade.
Main image credit: GPtygodnik/Twitter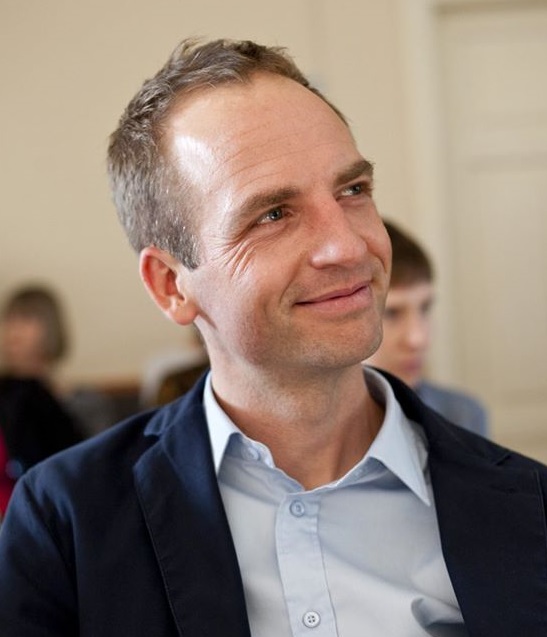 Ben Koschalka is a translator and the assistant editor at Notes from Poland. Originally from Britain, he has lived in Kraków since 2005.