The Polish city of Żory has launched a billboard campaign to welcome Ukrainian immigrants – who make up 10% of its population – and to teach local residents a few phrases in the Ukrainian language. The initiative follows a similar one in Lublin, another city home to many Ukrainians.
"The billboards are a welcome for immigrants in Poland," said Żory's Municipal Cultural Centre, quoted by local newspaper Dziennik Zachodni. "The graphics with Ukrainian words have great educational value for Poles, and for our guests from Ukraine they are a nice confirmation that Polish society recognises and accepts them."
The billboards contain common phrases, such as "Hello" and "Goodbye", presented in Polish and Ukrainian (both in Cyrillic script and transliterated into the Latin alphabet used in Polish). The city's cultural centre is also organising integration meetings between Poles and Ukrainians.
Żory's project was inspired by a similar initiative in the eastern city of Lublin earlier this year, organised by an NGO, Homo Faber, and devoted to anti-discrimination and integration.
"Integration is a two-way process," Homo Faber's Piotr Skrzypczak told Gazeta Wyborcza. "Those who come here must do a lot of hard work to learn the language. It is good if those who live here do some work too…to show we care about our new residents."
Poland has in recent years experienced a level of immigration unprecedented in its history, and among the highest in the European Union. For the last two years, it has issued more first residents permits to non-EU citizens than any other member state.
A large majority of these immigrants have come from neighbouring Ukraine. They have helped to ease pressures on Poland's labour market caused by rapid economic growth, record low unemployment, high levels of emigration and a poor demographic situation.
The National Bank of Poland estimates that Ukrainian workers have created 11% of Poland's GDP growth since 2014.
Ukrainians have generally been well accepted in Poland. A survey published earlier this year found 52% of Poles expressing positive sentiment towards Ukrainian immigrants, and only 12% negative.
There have, however, also been episodes of hostility. In Żory itself two months ago, a Ukrainian student was violently attacked. The victim, his friends and the Ukrainian consul general say the incident was motivated by national hatred. But local media report that the police, who are still investigating, have doubts about those claims.
When the billboards teaching Ukrainian appeared in Lublin, the local branch of radical-nationalist organisation ONR declared it a "scandal", calling Homo Faber a "leftist and extremely anti-Polish organisation".
Nationalist groups including ONR have periodically attempted to organise protests against mass Ukrainian immigration, although they invariably attract few participants. At one in Wrocław last year, just ten people attended.
Skandal!

Homo Faber – lewacka i skrajnie antypolska organizacja zapoczątkowała w Lublinie kampanię "Lublin uczy się Ukraińskiego". pic.twitter.com/KLYSbVT2Tk

— ONR Brygada Lubelska (@ONRLublin) March 6, 2019
Main image credit: MOK Żory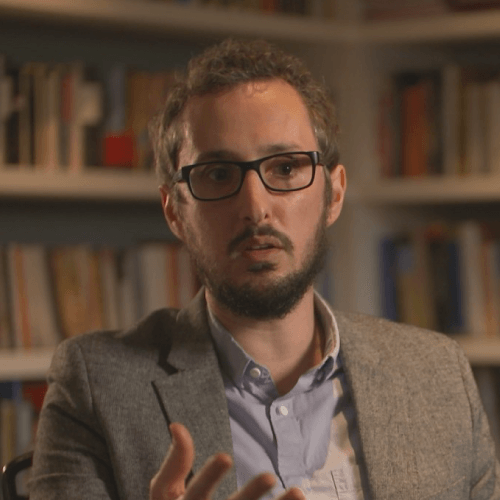 Daniel Tilles is editor-in-chief of Notes from Poland and assistant professor of history at the Pedagogical University of Krakow. He has written on Polish affairs for a wide range of publications, including Foreign Policy, POLITICO Europe, The Independent and Dziennik Gazeta Prawna.