By Mateusz Bałuka
This article is translated and republished from the original with the kind permission of Onet.
While the opposition continue searching for candidates to stand in next year's presidential elections, the incumbent, Andrzej Duda, has passed a major milestone. Last week, by visiting the village of Brojce, he completed a tour of all 380 administrative districts (powiats) in Poland. Research shows that small-town Poland is now his bastion, which is why the meetings offer serious potential in his battle for re-election next year.
Since becoming president, he has visited more than a hundred towns and villages, participating in open meetings with residents. This means thousands of handshakes, photos and autographs.
Notably, Duda is happy to visit the places where his support was lower five years ago. His pre-campaign has gathered speed in recent months.
Duda's tour of Poland's small towns, though symbolically complete, will certainly continue. According to our sources, the presidential diary for 2020 will open with further visits to the region.
Andrzej Duda began his official tour of Poland as part of his first presidential campaign in February 2015. This was the time when opinion polls were predicting victory for his opponent Bronisław Komorowski, the incumbent, in the first round, and Komorowski was accusing his rival of having "political ADHD".
Three months later, the "Dudabus" that carried him across the country was one of the reasons for the Law and Justice (PiS) candidate's victory. Duda has not rested on his laurels during his presidency. His goal was ambitious: to visit all 380 administrative districts in Poland. And now he has achieved it.
Duda's journey will not end now. His diary for early 2020 is already looking full.
Ready-made election broadcasts
President Duda goes to places where he is often the first head of state to have visited since 1989. These events scarcely attract much attention amid the information noise, but for the local communities, they are hugely important.
In the market squares, greens and sports halls where Andrzej Duda appears, residents flock to see him. There are fire brigade orchestras, housewives' clubs, and song-and-dance groups.
The presidential addresses contain words of thanks, references to local history, emphasis on the uniqueness of the region. But there is pure politics too: comments on current affairs, and often heated words levelled at the opposition. All followed by hundreds of handshakes, photos and autographs. Ready-made shots for election broadcasts.
Odwiedziłem dziś Sianów koło Koszalina. Świetna atmosfera spotkania i bardzo ciekawe rozmowy. Serdecznie dziękuję Organizatorom i Mieszkańcom! Jeszcze raz pozdrawiam! pic.twitter.com/NGE6AHemus

— Andrzej Duda (@AndrzejDuda) September 5, 2019
Since becoming president, Andrzej Duda has taken part in open meetings with residents in over 100 towns and villages. If we include the head of state's participation in various other events (harvest festivals, anniversaries, etc.), there are even more visits. However, we collected those in which Duda's participation was a key part – often the only one – of the occasion. These are therefore very campaign-like.
If we look at the dynamic of the visits, this year there have been twice as many as in previous years. The coming election might have something to do with that. Yet Duda's staff insist that they are all part of the presidential vision.
Map of public meetings with Andrzej Duda since the start of his presidency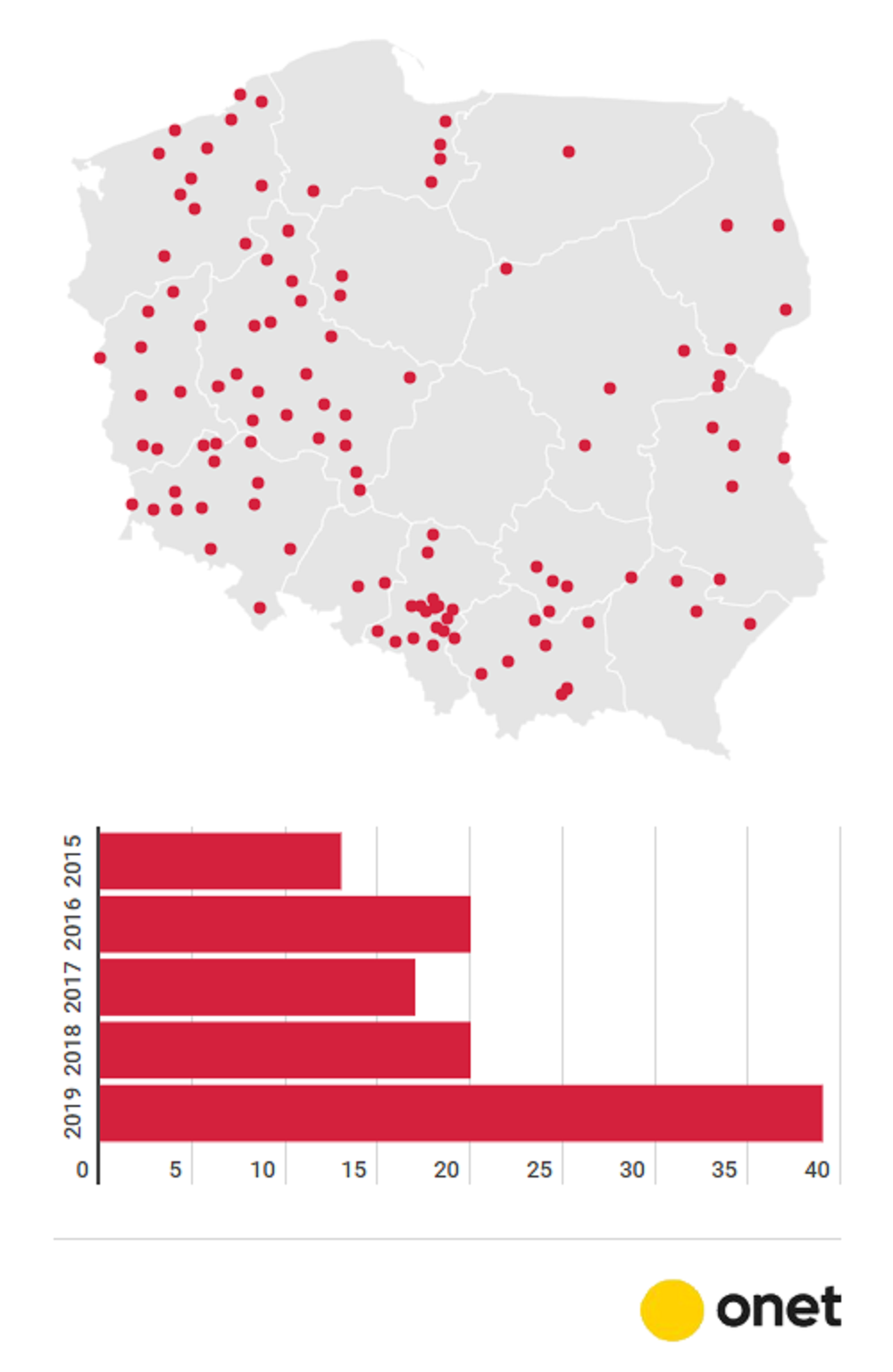 Playing to capacity crowds
"The president made a commitment that throughout his term in office he would meet and talk to Poles, and that is part of his presidency," said Duda's spokesman Błażej Spychalski in an interview with Onet. "Each president has his own's vision of how to perform his duties, and open meetings with the Polish people are a hugely important issue for Andrzej Duda."
The spokesman stresses that the meetings are always held following an invitation from local authorities – and there are a "huge" number of them. "In the regions we're in they are large and successful meetings. We were in Jarocin recently. A lot of people couldn't get in, as the hall didn't have a large enough capacity," says Spychalski.
Is there a selection process for the invitations? The spokesman confirms that one of the criteria is whether the district in question is one that has not yet been visited by a president since 1989.
Not so quiet on the western front
It is interesting to note that Andrzej Duda has so far been particularly keen to visit the western part of Poland. One of the reasons is obvious if we look at the electoral map from almost five years ago. These are the places where his support was lowest.
Map of voting patterns in every powiat in the second round of the 2015 presidential election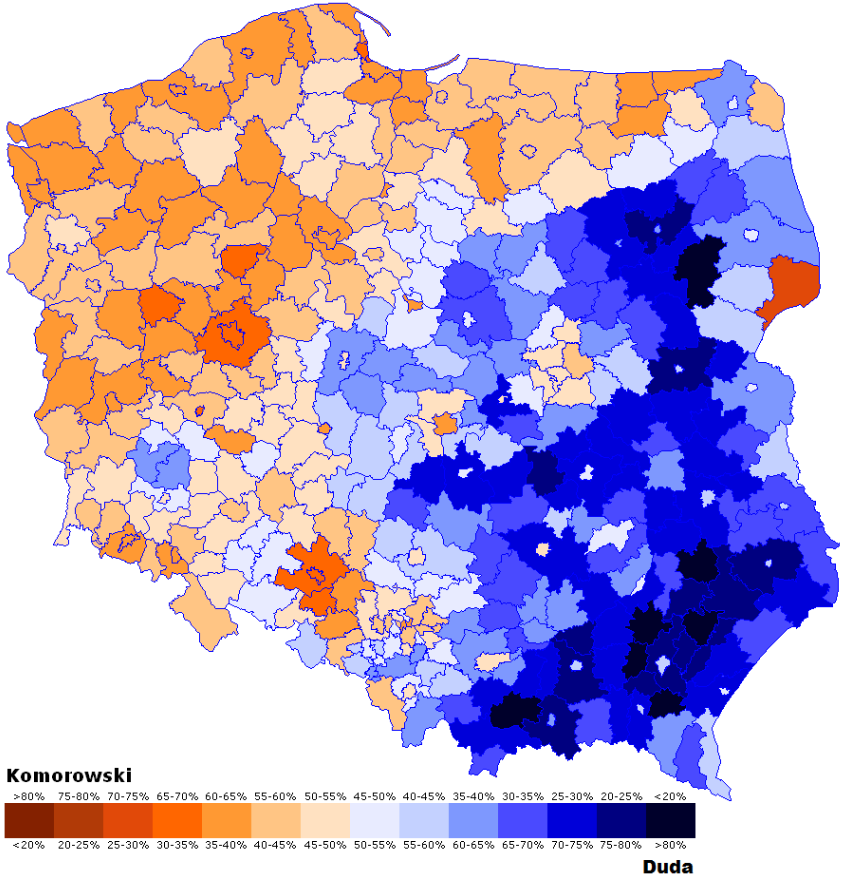 Source: Wikimedia Commons/Robert Wielogórski (under CC BY-SA 4.0)
The map show that the president lost out to his predecessor in large areas of the Greater Poland, Western Pomeranian and Lubusz provinces. The electoral maps for PiS and opposition parties at parliamentary, European and local elections look very similar.
This might explain Andrzej Duda's interest in making his presence felt and attempting to expand his electorate in these provinces. One third of the meetings to date have taken place there. These might be the places where re-election is decided.
Our lives are better, sir
Apart from the nuts and bolts of the meetings, the message aimed at participants is also crucial. Andrzej Duda's local speeches share similar templates, themes and key words. The president often emphasises his role in implementing the government's "good change" programme and puts himself forward as a guarantor of its continuation. This looks set to be one of the cornerstones of his strategy in the coming campaign.
In his speeches Duda constantly refers to the fundamental task he set himself at the beginning of his presidency – to make Poles more prosperous. At this point, he cites the example of a family from whom he wants to hear the words: "Our lives are better now than when you started, sir". This rhetorical device appears in almost every one of Duda's speeches.
"I want – I'm sure you've heard this on television before – to be able to hear from ordinary Polish families at the end of my presidency, when I complete my presidential service, 'Sir, our lives are better now than when you began your presidential service.' If I am able to hear these words, that is all I need to be happy."
Andrzej Duda (Górów, 8 October 2019).
Credibility is key. The president points to his slogans from the 2015 elections and their implementation by the PiS government. The main things are the Family 500 Plus programme, a generous and popular child-benefit scheme, and the reduction of the retirement age – promises financed by funds taken away from "VAT mafia thieves".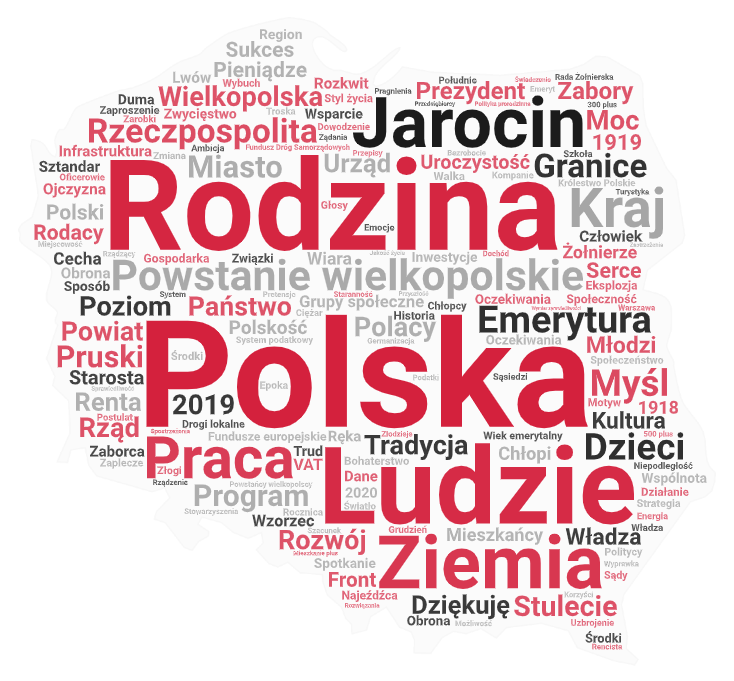 Word cloud from Andrzej Duda's speech in Jarocin, 7 November 2019. Among the most common terms are: family (rodzina), Poland (Polska), people (ludzie), praca (work), earth/soil (ziemia), retirement (emerytura), thank you (dziękuje), tradition (tradycja).
Duda argues that a strong and honest state is being built, leading to a "fair distribution of wealth". He also emphasises "sustainable development". From here, it is a short path to fighting against the "decline" of small-town Poland or to call for "transforming Poland B into Poland A" (terms that are used to refer, respectively, to economically less developed and more developed parts of the country).
What examples does he give? Reopening police stations closed down during the previous Civic Platform-led government, or investments in infrastructure.
"You all know very well that for a long time, wealth was indeed not distributed fairly here. The fair distribution of wealth began only four years ago. This is the fair distribution of wealth that I too promised during my presidential campaign, when speaking of the 500 plus programme."
Andrzej Duda (Sianów, 5 September 2019)
"I am very pleased to be able to participate in putting such politics into practice. This is the politics that Poland and Poles deserve. Targeted at ordinary people. Targeted at families. And also targeted at those areas that were previously not noticed at all, outside of big cities, where instead of progress we had decline: police stations were closed, post offices were closed, schools were closed. I would like that all to return."
Andrzej Duda (Zieleniewo, 5 September 2019)
Like the PiS government, the president wants Polish wages to catch up with those of Western Europe. In one speech he set the ambitious target of average salaries in Poland being equal to those in Germany or France within ten years.
Where necessary, Duda's speeches also often contain references to issues of security – both military and energy. In this context, the president boasts of achievements in relations with the United States.
The longest possible pre-campaign
There's a saying in the Anglo-Saxon political world: as soon as one campaign finishes, another begins. Andrzej Duda treats this mantra very seriously. Small-town Poland is now his bastion.
According to an IPSOS poll for OKO.press, the strongest support for the incumbent president in terms of place of residence comes from villages and small towns – with 50 and 52 percent respectively. Almost half of Poles voting in elections live in such places. This is a very important electorate that could bring him close to electoral success. The question is whether the president has reached his ceiling, or is capable of gaining more.
This is why Duda's tour of Poland's small towns, though symbolically complete, will certainly continue. According to our sources, the presidential diary for 2020 opens with further visits to the regions.
The president's staff will endeavour to make sure the meetings retain the same format. The more time that passes before he begins his formal campaign, the easier it will be to justify their presidential character. On the other hand, the closer it gets to the elections, the more frequent comparisons with Duda's rivals will become.
It will be extremely hard for opposition candidates to compete with the president in this respect in such a short space of time. Questions are already being asked about the use of the office in the battle for re-election. But criticism alone might not be enough.
The original version of this article can be found here. Translated by Ben Koschalka.
Main image credit: Kancelaria Prezydenta/Jakub Szymczuk