By Stanley Bill
Notes from Poland has reached out to the four leading presidential candidates to get their views on the key issues ahead of next week's election.
In the first part of this series, Szymon Hołownia, a journalist and TV presenter standing as an independent candidate, answers our questions on his experience and political profile, climate policy, foreign affairs, defence, the role of the Catholic church, and the controversy over LGBT rights.
Stanley Bill: Some polls suggest you are the candidate with the best chance of beating President Duda in a run-off. However, you have now fallen behind the new opposition frontrunner Rafał Trzaskowski (Civic Coalition – KO) in the race to get there. Can you explain this paradox? How can you come back from here?
Szymon Hołownia: I am the candidate who people want to support because they finally want to vote for something, not against something. In so many elections they have voted for the lesser evil, and they are fed up and tired. The polls for the run-off predict my win because I'm able to get support from many different groups of voters. None of my competitors will be able to do that.
But, in any case, I regard these results as just figures. As the 2015 election showed, the race will go down to the wire. Those who have the lead now could drop down the table in the coming days, and I cannot take my eyes off the ball. As you rightly point out, I have some catching up to do, and I'm doing it by focusing on sharing my vision and presenting a very strong programme. Its main premise is what Poland should look like in 2050, and hence my motto: "A generation, not a term."
Poland is deeply divided today into two warring political factions. I want to show that a different path is possible, that we can work together again. This is how I can enter the run-off and win it.
Where do you fit into Poland's political or ideological scene? You are keen to separate yourself from party politics, but your positions on most issues are close to the centrist Civic Coalition. What is distinctive about your programme?
Sincerity defines my programme. I want to become a president to change Poland, not to satisfy party interests. This change needs time, and I know it will be at least a generation. And this change is very much needed because for a long time truly important matters have been set aside. So I cannot agree that my programme is close to KO. My programme is what Polish people need, never mind their political sympathies.
Political parties have had their own ideas on how to spend public money, and these have not necessarily been to the benefit of the wider society. It's high time we changed that.
Do we want our children to run out of tap water? Do we want Poland to be smothered by killer smog? Do we want to have a desert in the middle of the country or to ignore the climate emergency? All these burning issues have been neglected for years. I want to be able to look my daughter in the eye when she asks: "Dad, what did you do to prevent all these things?" I want to be able to tell her: "Everything I could." I want to bring back hope to those people who have lost it. I want to show them they can have an influence on our country's future.
Poland's weak semi-presidential system means that presidents have limited power. And yet candidates frequently make promises that the office does not allow them to deliver. How do you understand the key powers and role of the president?
You shouldn't confuse a weak presidential system with a weak president. There are a number of provisions in our Constitution that give the president powers to set directions, to table legislative proposals, to veto proposals of the government, to appoint committees and ministers. He may convene the Cabinet Council and define his position there. He may regularly convene the National Security Council, to which he can invite former presidents, among other stakeholders.
These tools are available, and you just need to use them in a clever way, instead of waiting for instructions from the leader of this or that party. It depends on the person who steps into the role. This will determine how the presidency will look, and whether and how it will go down in history.
As a former TV talent show host, your political experience is slim. Why should voters entrust you with the domestic and international responsibilities of the presidency?
I am the only candidate in this election who has not participated in the deepening of divisions between Poles by the main rival political camps. I think this is to my advantage. Instead, I took up social work, ran foundations that helped people in need in Poland and abroad – altogether in some 14 countries of Africa and Asia. I wish all candidates running for presidency had this experience.
Some past independent candidates have used a strong showing in a presidential campaign as a launch pad for the formation of a new political grouping. Do you have any plans to establish a new party?
Almost 14,000 volunteers are working on my campaign, of which several hundred are abroad. Another several hundred local authority representatives, including many mayors of Polish cities, are actively supporting our campaign. This represents huge potential. I realise we have built a grassroots movement, and I know I mustn't waste it. We need to take one step at a time. For now, the priority is to win the presidential elections. We will think about what to do next when there is a spare moment to breathe.
Climate policy is one of your stated priorities. In practice, how can Poland move away from heavy reliance on coal to a greener energy mix without suffering serious economic damage during the transition?
The green energy transition in Poland is a challenge. That is true. Moving away from almost 80% reliance on coal will not be an easy feat. However, it's something we simply have to do, and not only due to climate objectives, but precisely because of economics. The fact of the matter is that the Polish energy system needs investment either way. If we leave it unchanged, our inflexible power supply could soon become unreliable both for citizens and for industry, hindering investment and affecting our development.
At the moment, the investments that make the most economic sense are not in coal, but in renewables. The growth of solar energy is showing the massive potential of this technology in Poland. Unblocking on-shore wind, continuing with off-shore wind projects and promoting biogas projects now represent the obvious path for the sector, promising to bring many jobs in the crucial small and medium-sized companies sector.
Some of these technologies have the potential to be manufactured in Poland, and Polish companies could become part of EU supply and value chains (e.g. off-shore wind). In the coming years, renewables will be underpinned by natural gas projects that towards 2050 will be replaced by hydrogen. This technology again has the potential to become a Polish specialty.
Restructuring of the mining sector could also be profitable for the Polish economy. Mining regions in Poland have enormous potential to grow with reduced mining activity, and – I think – after 2040 without it. Miners and their families should feel the backing of the state, and I would be an advocate of a just transition programme that will prepare them for alternative career paths and prepare the infrastructure in the region for the change. I will work with business on the creation of new, well-paid jobs in mining regions in industries outside mines, including in renewables.
The key source of funding for this change will be the EU budget. The new green economy is the EU's objective by 2050, and Poland could be one of the major beneficiaries of its creation. We have much to do and ground to cover, but this means that we could even leapfrog some of our friends in the EU by going for cheaper, more efficient technologies, and developing the next generation ones, like hydrogen.
Another practical move that we need is reform of the management of state-owned companies. Politicians have been using state-owned assets as trophies, forcing them to invest in pet projects. We need these companies to become the engines of green growth, and for this they need to be freed from day-to-day handling by politicians. Moreover, the coal assets that drag many of the energy companies down should be moved to a dedicated company to free the rest to invest in the best available technologies.
The path to climate neutrality will not be easy, but we have to remember it's a path not only benefiting the climate, but the Polish economy as well.
One of the main areas of presidential responsibility is foreign policy. Your campaign does not emphasise this, and you lack specific experience in the area. Is this a weakness of your candidacy? How should Poland be positioning itself in the increasingly complex relations between Europe, the US and a rising China?
I am aware of global challenges and social issues in developing countries, where two of my foundations are active in the humanitarian and development aid field. And when my knowledge is not sufficient, my great experts come to help. I have created a wonderful team, which includes leading former Polish diplomats, military commanders, climate and energy experts as well as young political scientists.
The world is changing. The US is not likely to play the role of a global policeman forever and – as you rightly observe – China is developing into a systemic rival for the EU and its member states. I am aware that Poland is not a lonely island that will be able to avoid feeling the impact of international developments. Therefore, I think Poland and its leadership needs to present itself as a constructive partner, especially in the EU – by proposing mature solutions and by regaining the trust of our key European partners, France and Germany.
Our alliance with the United States is also extremely important, but our approach to the US needs to be more pragmatic. Only as part of the EU can Poland prepare for the threats of the future. Only as an EU-agenda setter can Poland's voice be heard and listened to by global superpowers. Another topic is Poland's non-existent neighbourhood policy – we need to work hard to leverage our relations with Ukraine, Germany, Czechia and Slovakia as well as the Nordic and Baltic countries.
Another key domain of presidential responsibility is defence. Would you describe President Duda's efforts to intensify defence cooperation with the US as a success? Does Poland have any real alternative to this approach?
NATO is the ultimate guarantee of our security. However, the Treaty is not only about Article 5; it is also about Article 3, which places an obligation on member states to develop their own defence potential. We must stop the damage being done to the Polish armed forces and modernise them, to build an ability to react to modern threats, like cyber-attacks.
Cooperation with the United States is a very important part of the Polish security and defence system, but it should not be the only dimension.
I'm not sure if President Trump wakes up every day and says to his wife: "Good morning, Melania. I wonder how my beloved Poles are doing today. Do you think they still love me so much?"
The Republic of Poland is a member of two elite clubs – NATO and the European Union. We must not forget about good relationships with our closest neighbours. We must be an important member of both these organisations. We have to bear in mind that good relations within the European Union and among its member states are a guarantee of our security as well.
One of the president's duties is to design and implement the directions of Polish foreign policy by building those relationships in Europe. That is something that President Duda seems to keep forgetting about.
The question of LGBT rights remains controversial in Poland. You have said that as president you would approve civil partnerships, but veto any bill on gay marriage. In the unlikely event that the parliament passed such a law, why would you reject it?
The public awareness on this matter in Poland is still negligible. There is a lack of education and tolerance – this is a result of years of neglect. Therefore, I think that introduction of same-sex marriages by law would be inadvisable – apart from the fact that you would need to amend the Constitution as well.* I am in favour of same-sex civil unions, because such a legal solution is needed. Today it is impossible for a person to secure their partner's rights fully by a notary agreement alone.
*  Poland's Constitution states that "Marriage, being a union of a man and a woman, as well as the family, motherhood and parenthood, shall be placed under the protection and care of the Republic of Poland". Many interpret this article as a limitation on same-sex marriage. However, some constitutional experts and even a court ruling have rejected this assumption. 
Like most Poles, you identify as a Roman Catholic. Are you concerned by the role certain factions of the church currently play in Polish politics?
I want a clear separation of the state from the church, and I say this as a practising Catholic. The current position of the Roman Catholic church in Poland makes it almost a religious state. This harms the position of the church the most, and could even lead to an exodus of the faithful. The state should in no way favour any denomination. The president cannot invite representatives of certain denominations to state ceremonies and forget about the others.
Like several other presidential candidates, you refer to the legacy of "Solidarity." You also confirm your support of PiS's child benefit programme, which has reduced certain kinds of inequality in Poland. What else does the vague notion of "Solidarity" mean to you? How would you use specific presidential powers to deliver it?
Indeed, I support the 500+ social benefit programme. I am aware that it has not necessarily led to a higher birth rate in Poland, but it plays a very strong social role. I do not see any need to abolish it. Solidarity means caring for the whole community, which is only as strong as its weakest member. It means noticing all minorities and hearing their views on issues that are important to them.
When I become president, I will remain open to discussions with all minorities – including members of all faith denominations present in Poland and members of the LGBT community. Solidarity also means caring for the most deprived among us, and empowering regional governments and local communities with tools that will allow them to thrive. This is why support for local authorities is one of the foundations of my programme.
Szymon Hołownia answered questions submitted remotely by Stanley Bill.
Main image credit: Szymon Hołownia election team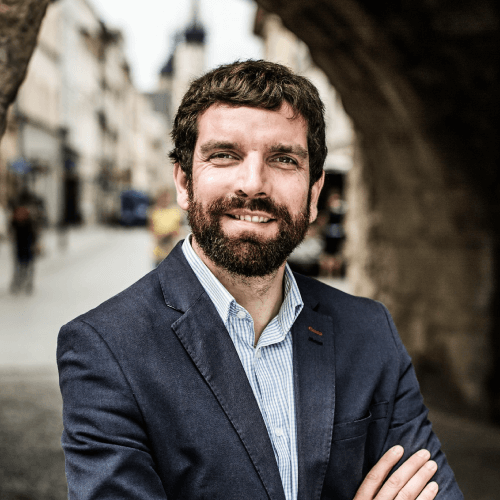 Stanley Bill is the founder and editor-at-large of Notes from Poland. He is also Senior Lecturer in Polish Studies and Director of the Polish Studies Programme at the University of Cambridge. He has spent more than ten years living in Poland, mostly based in Kraków and Bielsko-Biała.
He is the Chair of the Board of the Notes from Poland Foundation.