By Percy Metcalfe
Hala Gwardii and Hala Mirowska are two neighbouring market halls in Warsaw's Mirów neighborhood that have evolved into icons of the city's food and retail scene. They sit across from each other, separated only by a market square, occupied since the 1960s by a sprawling network of independent vendors in outdoor and semi-covered stalls that are conventionally thought of as part of Mirowska.
These places have witnessed and survived the last century and a quarter of Warsaw's traumatic history, including German-Nazi occupation and decades of communist rule. But the current coronavirus pandemic presents new difficulties that threaten the survival of these two Warsaw institutions and the livelihood of hundreds of vendors. Stall operators that remain open, either in person or via e-commerce, are reporting a roughly 80% fall in revenue, as shoppers remain at home and have less disposable income.
"Feathers in a tornado"
While the market at Hala Mirowska remains open as a source of groceries and other essential goods, Hala Gwardii, which usually operates only on weekends, has been closed since 13 March. Many of its businesses are classified as restaurants or non-essential stores and were therefore mandated to stop functioning onsite by government regulations.
Despite Mirowska's long history of survival, vendors today are struggling to see a way forward. Mahmoud, the Egyptian owner of a Middle Eastern grocery stall at Mirowska that is his family's only source of income, worries about the unpredictability of his revenue.
"It changes everyday," he says, suggesting how hard it is to plan ahead. Previously, on a normal Friday or Saturday, he would take home 1,000 zlotys (€220). Now he is lucky to reach 200.
Agnieszka, a 25-year-old Hala Mirowska veteran, does not remember business ever being so bad. She owns a small store selling general kitchen supplies. "No one waits to buy. People try to keep moving in order to keep distance from each other," she says forlornly gesturing at the thin crowd that shuffles awkwardly by.
The self-employed make up around 18% of Poland's workforce, the third highest rate in the European Union, which in normal times brings both risks and benefits. Such workers generally report higher job satisfaction, though also have to deal with increased uncertainty.
"In the very best case, a self-employed person is like a feather in the wind," as Landa Ruweha, owner of Dervish Kitchen, which sells Syrian food at Hala Gwardii, puts it .But "there is a situation now where we are feathers in a tornado", she says, reflecting the fact that the self-employed receive relatively little government relief in Poland. "It is beyond scary. It is petrifying."
Struggling with government support
As the Polish government ramps up its economic response plans for the ongoing pandemic, most vendors remain sceptical that it will make up their shortfall. They think little of the government's so-called "anti-crisis shield" of emergency measures passed to help entrepreneurs and small business owners.
"From this country?" scoffs Grzegorz, who co-owns a flower stall in front of Mirowska's main building on Jana Pawła, when asked about government relief. "I would like some, but it's simply not possible…Not with this government."
Grzegorz knows his wife is at higher risk due to a recent surgery, but doesn't know how he would support himself if he had to stay home: "to close something that you've built from nothing, well I wouldn't be able to feed my family."
Zofia, who runs a spice stall, gestured to her undepleted stock. "There aren't many clients at the moment," she said. "Though, in the current plan, there's some assistance for business owners but it's not what we would receive if we were working under normal circumstances. It's not easy."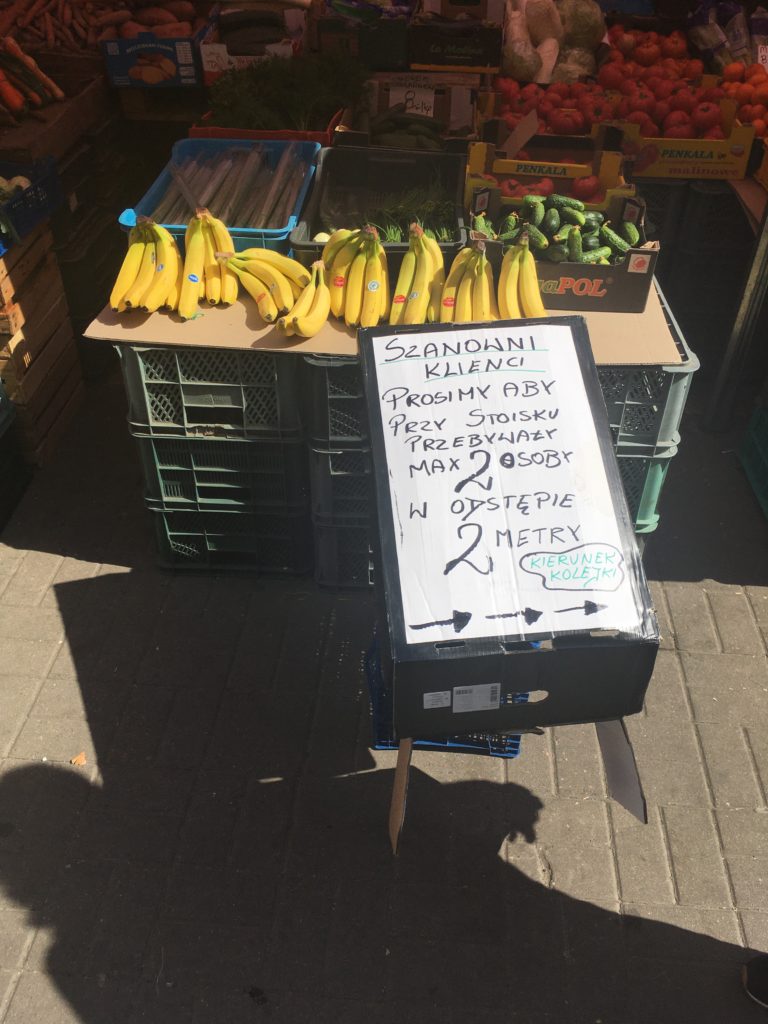 Under the government protection scheme, most stalls that operate at Hala Mirowska and Hala Gwardii would be classified as one-person businesses (self-employed) or "microbusinesses" with between one and nine employees. In theory this would mean qualification for a combination of subsidies, ZUS (social security) payment exemptions, payroll co-financing options, and loans.
However, none of the vendors contacted by Notes from Poland reported easy experiences with these options. As a non-native Polish speaker, Mahmoud admits to needing help with the online application instructions. His Polish wife, who now stays home with their infant son, has been looking for other solutions for his business.
Witnesses to a tumultuous history
Built together in 1899-1901 during the Russian mayoralty of Nicolai Bibikov, who was responsible for many of the city's large infrastructure projects, the two markets were designed to improve the hygiene and regulation of the city's rapidly expanding food trade. Upon construction, the combined area of Mirowska and Gwardii, which were previously a barracks square, constituted the largest shopping facility in Warsaw.
Both venues have weathered catastrophes in the past. They survived the invasions and occupations of both the world wars and associated destruction, each time reemerging with their original function as a food, grocery, and handicraft retail space.
During the Nazi occupation, the area containing both Mirowska and Gwardii was surrounded on three sides by the ghetto walls, though lay just within the borders of the "aryan side." Mirowska in particular became a place of tragedy when 510 Varsovians were murdered there in the early days of the Warsaw Uprising in 1944. The building's interior was later set alight when the Germans stormed it as they attempted to wrest control of the city from the Polish insurgents. The exterior walls, with their characteristic romanesque revival style, remained intact, though scarred by bullet holes that remain visible to this day.
Hala Mirowska's main building underwent reconstruction and renovation in the 1960s, which included the addition of the modern western facade. Since 1974 it has been used by the Społem cooperative market chain. The neighbouring Mirowska vendors who operate in the square continue to pay rent annually to the city. Compared to Gwardii vendors, they tend to offer more run-of-the-mill products: everyday fresh groceries, meat and fish, as well as assorted household goods. In a 1988 official visit to Poland, UK Prime Minister Margaret Thatcher made a visit to the Mirowska vendors where she bought, among other things, a jar of pickled mushrooms.
Hala Gwardii was less damaged than Mirowska in the war. In the aftermath, the city briefly used it as a bus depot, before turning it over to the Gwardia Warszawa sports club to use as a boxing arena where Polish athletes distinguished themselves at the 1953 European Amateur Boxing Championship under the tutelage of famed coach Feliks "Papa" Stamm.
At the end of the 20th century, Hala Gwardii returned to the food business when the venue was leased to the MarcPol supermarket chain, which entered bankruptcy in 2016. This initiated a competition by the city to find a new tenant: CBR Events stepped into the void to create the Hala Gwardii we see today.
Krystyna Chami, co-founder of CBR Events, emphasises that they wanted to "put something totally new on the map of Warsaw that could be compared to similar places around the world". The assembled collection of stalls, small businesses, local producers, and restaurants are reminiscent of Barcelona's Mercado de Boqueria or London's Borough Market.
"We have to always support our partners"
Chami says that the decision to close the space entirely during the current lockdown, rather than just shutter the restaurants and leave the smaller food businesses to operate, was made by looking at how other countries were failing to cope with the virus. This made it clear that it would be unsustainable and irresponsible to allow the remaining stalls to operate.
"We really feel that we have a collective responsibility," Chami tells Notes from Poland. "We see that it's not acceptable and not ethical to participate in the virus spreading."
Previously the community and atmosphere of Hala Gwardii offered something different to consumers. People would go there to meet, to share a meal or a drink. The vendors were able to support each other too, creating a community. Since the venue's closure, all that has evaporated. Now the Hala Gwardii stalls must compete with bigger and more established businesses for a share of the food delivery market.
CBR Events has tried to staunch the loss of revenue by its vendors. Chami estimates that vendors at that location are taking in a quarter or a fifth of what they would normally. She hopes that the Gwardii online shop, which launched four days after the venue's closure, will work to improve those numbers. The company also suspended rent payments and reimbursed vendors for half of March.
"We have to always support our partners who are quite small," says Chami. "We don't have all the answers, but at our level these are the things we can do."
Prospective customers can purchase over 450 products at the online store, though not every business is able to make use of this service. In normal times, Szymon Malerecki runs Gwardii's The Espresso Bar, which serves artisanal speciality coffees from Poland's top coffee bean roasters. Gwardii's online store works by offering once weekly pick up times to customers, which doesn't lend itself to the functioning of a business like Szymon's.
He longs for a return to normality: "Hala Gwardii is a unique place… Every seller, restaurant owner, or little craftsman is important there and together we create a great place to eat, drink, and relax."
Ruweha also can't work with once weekly pickup times for her food business, so has shifted her entire operation to a delivery service managed through Facebook. "It is the only avenue of revenue still open," she notes, before clarifying that it is in no way a substitute for the foot traffic she usually benefits from at Gwardii. "It's still in its infancy because no one has a Plan B. We're all on Plan A2. We're kind of winging it."
"I've had to push this delivery business into the light at a week's notice," says Ruweha, "while other companies have whole departments for online marketing and logistics. I'm just a single mother trying to figure out how to do this on the go, while keeping my asthmatic kid safe."
As the crisis stretches into weeks and months, Ruweha notes that delivery orders have become less and less frequent. Despite the government's announcement of economic "unfreezing" measures, which began April 19th, people continue to feel the pinch.
The consequences of the epidemic – both economic and social – will likely continue to shape the decisions of customers and business owners alike. Warsaw's storied marketplaces may be entering into a new and unexpected chapter in their history that is likely to take a toll beyond what anyone expected.
Main image credits: Flickr/PaulSableman (CC BY 2.0)
Nicole Aleksandra Gruszka, Polish-American writer and Fulbright researcher focusing on the themes of diaspora, women, Catholicism, precarity, and contemporary exorcism in Poland, assisted with this article.