The tougher new restrictions introduced this week to mitigate the spread of the coronavirus epidemic have led to difficulties with implementation and some confusion about their scope.
There has also been controversy over hunters being exempted from the rules, and discussion regarding whether churches will be allowed to hold masses for large congregations on Easter Sunday.
To cope with new government restrictions on shops, popular supermarket chains including Biedronka and Lidl have announced extensions to opening times this week as well as plans to keep stores open 24 hours in the traditionally busy week leading up to Easter.
According to regulations introduced this week, shops are only allowed to admit three clients for each cash register they have, all shoppers must be provided with single-use gloves, and the hours between 10 am and 12 pm are set aside for people aged 65 or over.
Implementing these measures is proving difficult for the industry, according to Renata Juszkiewicz, the president of the Polish Organisation of Trade and Distribution.
"First, we have enormous queues in front of the shop. We have confusion among senior citizens who did not quite understand the message. Second, we have a huge problem because we have to ask people in the shop at 10 o'clock to leave," Juszkiewicz told TOK FM.
She suggested that it would be better to set aside the first two hours after opening for senior citizens, when shops are clean and disinfected, before other customers arrive. She added that checking the ages of customers was difficult, especially as shops were short-staffed with some employees staying home to look after their children while schools are closed.
Supermarket chain Biedronka is giving its staff bonuses of 2,300 zloty.

"Your work during this crisis, thanks to which millions of families can buy products necessary for life, is of key importance," writes the CEO of the firm's Portuguese parent company https://t.co/JXi24NIaLg

— Notes from Poland ?? (@notesfrompoland) April 3, 2020
Juszkiewicz also said that the limits on numbers were excessively strict for large stores, suggesting that one person per 15 square metres would be a better solution. "Then there would be no queues in front of the shop, and people would be able to do their shopping in a calm, restrained way."
She also warned that the requirement to provide customers with gloves would cause problems. Shops are taking the responsibility to protect their employees seriously, but "at present we are unable to protect all of society with gloves. If the government expects us to do that job, it must help us with it."
Meanwhile, it has been reported that the government is considering relaxing restrictions on religious attendance. Currently services can have a maximum of five participants, not including officials administering them. This is already an exception to the current ban on gatherings of more than two people.
But it emerged on Tuesday, reported news weekly Wprost, that the strict limit on religious attendance expires on 11 April – one day before Easter Sunday, when millions of Poles would normally attend services. From 12 April, the maximum number attending services would rise to 50.
However, the authorities may still decide to extend the current restrictions beyond 11 April. A final decision will be made next week, says government spokesmen Piotr Müller.
There is pressure from within the ruling camp for the measures to be loosened. Antoni Macierewicz, deputy leader of the ruling Law and Justice (PiS) party, has described the restrictions as "absurd" and appealed to the health minister to relax them.
The Catholic church itself has already moved to limit some aspects of the celebration of Easter. The episcopate has, for example, instructed bishops that the blessing of food – a widely practised holiday tradition in Poland – will not take place and that church attendance should be restricted.
The traditional blessing of food on Holy Saturday will not take place in Polish churches this year.

The change is among a series of instructions issued by the Polish Episcopate to bishops on celebrating Easter in the time of the coronavirus pandemic.https://t.co/zMZ19PyaaG

— Notes from Poland ?? (@notesfrompoland) March 23, 2020
One group that has controversially been exempted from the restrictions on travel, public gatherings and access to certain natural areas is hunters. The Polish Hunting Association has argued that its members provides "sanitary" services that "support Polish agriculture, in particular in the fight against African swine fever", reported Onet.
However, critics have long questioned hunters' claims about combating ASF, and accuse the government of giving in to a powerful lobby group. One environmental group warns that, with most people now unable visit wild areas, it will be much harder to prevent illegal hunting of protected species.
There has been some confusion around the right of people to exercise outside the house. Wednesday's amendments prohibited entry to parks, riverside paths, promenades and other recreational spaces. While outdoor exercise is still permitted, health minister Łukasz Szumowski has discouraged people from engaging in it.
"Let's not take advantage to go jogging and work on our fitness," said Szumowski. "We'll cope without exercising. If we absolutely must go out, let's get some fresh air and go home."
Yet despite running not being formally banned, reports have emerged of runners being stopped by police in Poznań and Kraków, with some receiving fines. However, an image of an alleged 5,000 zloty fine for a runner that was widely shared on Wednesday turned out to have been an April Fool's joke.
Mariusz Ciarka, spokesman for the Polish General Police Headquarters, admitted in an interview with broadcaster TVN that the situation is changing and he called on people to be sensible. But he said that jogging individually is acceptable; the police are only likely to intervene if people are in groups.
"If going out for a walk around the block or for a run is justified, police officers will approach it with full discretion and understanding," said Ciarka. He also reminded the public that only shopping trips for necessary goods are permitted.
"Doing shopping to have something to cook for dinner" is fine, Ciarka told TVN. But someone who "wants to buy a scratchcard or has just run out of alcohol" should not be going out, he warned.
Main image credits: Tomasz Pietrzyk/Agencja Gazeta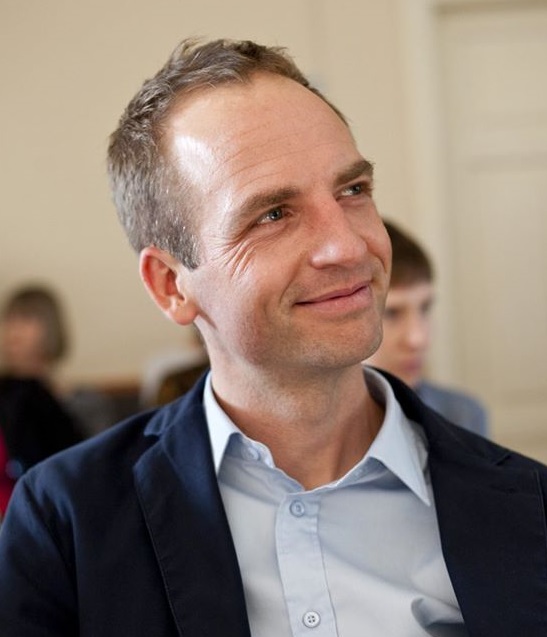 Ben Koschalka is a translator and the assistant editor at Notes from Poland. Originally from Britain, he has lived in Kraków since 2005.