President Andrzej Duda has indicated that he would be willing to sign a law introducing same-sex civil partnerships in Poland.
The move marks a contrast to the anti-LGBT rhetoric of the ruling conservative Law and Justice (PiS) party, whom Duda will be standing as a candidate for in this year's presidential elections. Critics suggest it is a cynical attempt to win over moderate voters, though the remarks echo previous statements made by the president.
In an interview with Wprost, a weekly news magazine, Duda said that he would "seriously consider signing a bill" introducing civil partnerships, "especially if it applied to all those living in informal relationships".
In particular he said he supports the idea of allowing such couples to have certain rights they currently lack, such as access to their partner's medical information if they are in hospital.
The president also denied that he holds any animosity towards LGBT+ people, telling Wprost: "I assure you that in the presidential palace I am often visited by people who have a different sexual orientation than mine. This is not the slightest problem for me."
Duda's words were met with a scepticism from opposition figures and LGBT campaigners, who noted that he has done nothing to advance LGBT causes during his time in office and has only raised this issue ahead of upcoming elections, when he will need to attract moderate votes to win a second term.
"For us, deeds count, not words," said Campaign Against Homophobia (KPH), an NGO. "It is therefore worth recalling that the president is entitled to [make] legislative initiatives. Has Andrzej Duda exercised his right and submitted a bill on partnerships? No…Mr. President, we do not believe you!"
The campaign group also noted that Duda began his term in 2015 by vetoing a bill on simplifying the process for changing one's registered gender. "LGBT people will not vote for you," said the organisation, quoted by Wprost.
One of Duda's rivals in the presidential election campaign, Robert Biedroń – who made his name as an LGBT rights campaigner and is now standing as the candidate of The Left – said that the president's words are "an old trick".
"Before every election, the conservative right-wing – not only Andrzej Duda, but also [the opposition] Civic Platform – says 'choose us and there will be partnerships," said Biedroń, quoted by Interia. "But there is only one presidential candidate who will definitely sign a law on partnerships, and it is certainly not Andrzej Duda."
Just after winning the presidency in 2015, Duda did indeed make similar remarks, telling newspaper Rzeczpospolita that he would support legislation allowing people to access information about the medical status of their partners in hospital.
He also said at the time that gay people's "orientation does not matter to me" and he would not have a problem with them working in his chancellery – though added that he would not want "anyone parading around the office half naked".
This sentiment was repeated last year, when Duda – who steered clear of the PiS- and church-led anti-LGBT campaign – told Polsat News that he "absolutely doesn't mind if someone was born with different sexual preferences" and supports same-sex couples being given access to their partners' medical information
But he added that he did not like anyone "flaunting sexual behaviour in public", especially "in the presence of children".
Responding to this weeks' remarks, another of Duda's rivals for the presidency, Małgorzata Kidawa-Błońska of Civic Platform, noted that the president has had "five years to deal with this issue" but has failed to do so.
Kidawa-Błońska has herself called for the introduction of same-sex civil partnerships, though her party failed to introduce them during its eight years in power from 2007-15.
Duda's words were also condemned by the presidential candidate of the far-right Confederation party, Krzysztof Bosak, who said it was "not surprising" that the president was supporting "the expectations of the LGBT lobby".
Bosak pledged that, under a true conservative such as himself, there would be "no tampering with family law, no institutionalisation of homosexual relationships".
The authenticity of Duda's proclaimed openness to civil partnerships is unlikely to be tested, certainly under the current government. The ruling party last year made anti-LGBT rhetoric and "defending the traditional family" a cornerstone of its successful campaigns in European and parliamentary elections.
Responding to the president's latest remarks, a deputy prime minister, Jacek Sasin, told broadcaster TVN that Duda "will not face a dilemma" over whether to sign any such bill because "there won't be one as long as PiS has a majority in parliament".
Another minister, Janusz Kowalski, told Polsat News that under the current ruling coalition there would be "a decisive 'no' to civil partnerships, to homosexual couples who want to adopt children".
Opinion polls, however, show growing public support for civil partnership. A series of polls by IPSOS indicate that in 2017, a majority (52%) were already in favour, and this rose to 60% by 2019.
Elsewhere in his interview with Wprost, Duda refused to condemn the recent trend for local authorities – usually under the control of PiS – to issue resolutions declaring themselves "free from LGBT ideology". The practice was recently condemned by the European Parliament.
Duda, however, offered the common conservative defence of the resolutions, saying that they are "not directed against people, but against a specific ideology". He said he would not personally support such a resolution, but "we are not dealing here with a violation of human rights".
The president made similar comments last year when defending the Archbishop of Kraków, Marek Jędraszewski, who likened "LGBT ideology" to Nazism and Bolshevism, calling it a "rainbow plague". Duda said that he has "great respect" for Jędraszewski, and argued that his words referred to "ideology, not people".
This position has been criticised by Campaign Against Homophobia, who wrote in response to Duda's latest remarks: "The problem, Mr President, is that there is no such thing as 'LGBT ideology'. There are LGBT people, 70% of whom experience violence, and for whom you as president are responsible."
Main image credit: Krzysztof Sitkowski/Prezydent.pl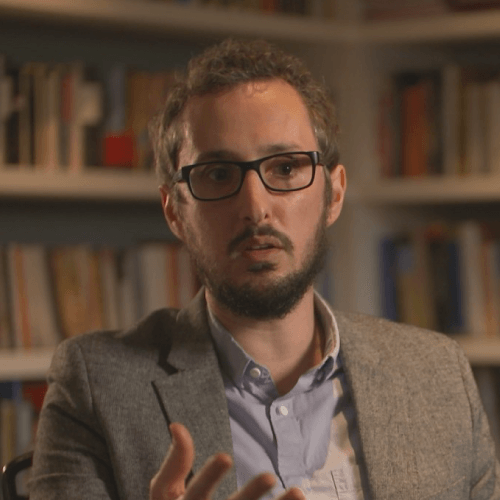 Daniel Tilles is editor-in-chief of Notes from Poland and assistant professor of history at the Pedagogical University of Krakow. He has written on Polish affairs for a wide range of publications, including Foreign Policy, POLITICO Europe, The Independent and Dziennik Gazeta Prawna.