The Polish subsidiary of OBI, a German home-improvement retailer, has removed from sale pictures showing stereotypical Jews counting money.
Such images, known in Poland as the "Jew with a coin", are hung in some Polish homes and businesses in the hope they will bring financial good fortune. The practice has faced criticism for being antisemitic, though others defend it as expressing positive sentiment towards Jews.
The latest controversy began last week when musician Tomasz Sikora posted an image (shown above) from an OBI store that was selling "lucky Jew" pictures for home decoration. Sikora condemned the chain for perpetuating "ugly stereotypes".
The firm responded to Sikora's Facebook post by saying that it "condemns all forms of antisemitism and racism". The product in question was "never intended to offend anyone's feelings".
However, debate and discussion continued, and a few days later OBI announced that "after talks, we decided that products in this series will be withdrawn from stores immediately". The firm promised to "in future make greater effort" to avoid "selecting products that can have negative associations", reports Fakt24.
Images of the "Jew with a coin" are widely available for purchase in Poland, though particularly in certain regions of the country. They often appear in outdoor markets and also sold in online stores (such as the one below, which advertises "a painting of a rich Jew counting gold").
The images are traditionally hung near the entrance to homes, with a proverb saying that "A Jew in the hallway [means] money in your pocket", says Joanna Tokarska-Bakir, an anthropologist who has written extensively on this issue.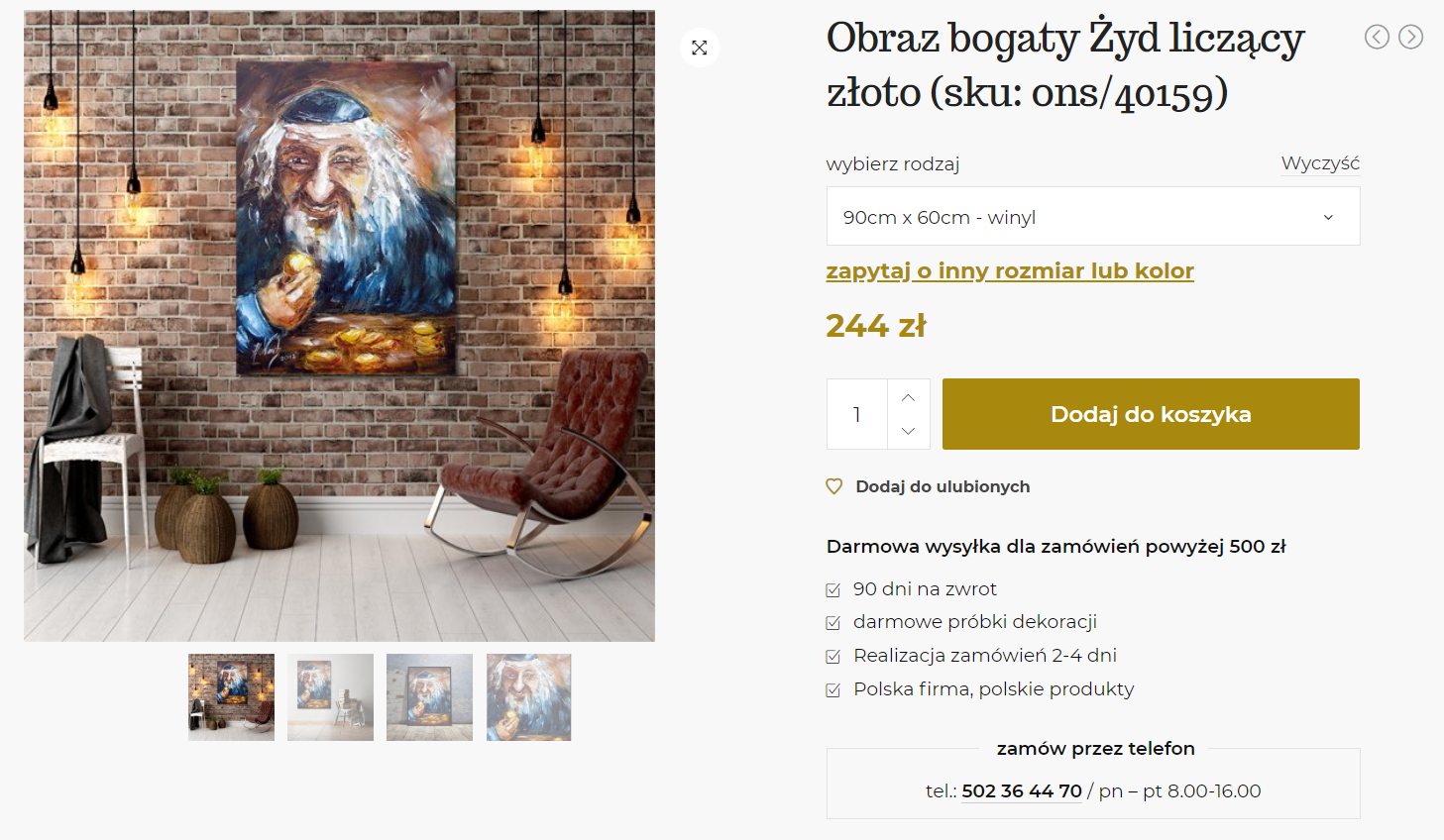 Some see the tradition, which is believed only to have developed in the post-1989 period, as harmless, or even as expressing a kind of nostalgia for Jews. Yet many criticise it for not only perpetuating stereotypes of Jews as money-obsessed, but for also often involving actions such as tipping the image of the Jew upside down to symbolically take his money.
Sikora says that the fact that the "negative message" of the tradition is "hidden under the guise of something harmless" actually makes it all the more dangerous. "Most [people] have no doubt that [explicit antisemitism] is bad", he told Radio Zet. But the "Lucky Jew" pictures "subconsciously reinforce stereotypes".
Such stereotypes certainly remain widespread in Poland. A recent international survey on anti-Jewish attitudes found that 56% of Poles believed the statement "Jews have too much power in the business world" to be "probably true" (compared to 20% in the UK, 27% in Germany, 29% in France, and 71% in Hungary).
Earlier this year, a senior MP from the ruling Law and Justice (PiS) party, Arkadiusz Mularczyk, said in an interview with wPolityce:
The Jews got lots of money from Germany. Now they've decided it is time for us. Jews want to extract money from Poland. But Poland will not allow [it]…Jews have to understand this. Today everyone opens their eyes to the behaviour of Jews. We observe with amazement how they behave. Maybe the various behaviours around the world relating to Jews are a reaction to their arrogance.
There are also, however, many Poles who take a positive interest in their country's Jewish past, including the thousands who attend Kraków's annual Jewish Cultural Festival. Some – such as Polish Olympian Dariusz Popiela – have devoted themselves to protecting, restoring and promoting sites of Jewish heritage.
Foreign visitors to Poland, particularly Jewish ones, are often surprised to come across "Lucky Jew" images on sale, as well Jewish figurines (called żydki, or little Jews), which often hold a coin or money bag in their hands.
One such individual was Michael Rubenfeld, a Canadian-Jewish actor. In response, he decided to visit an Easter market in Kraków dressed as the stereotypical "Jew with a coin", setting up a stall selling items featuring his image and offering to take pictures with shoppers. The resulting film was presented as part of a Jewish alternative arts festival in Kraków.
Main image credit: Tomasz Sikora/Facebook (published with permission)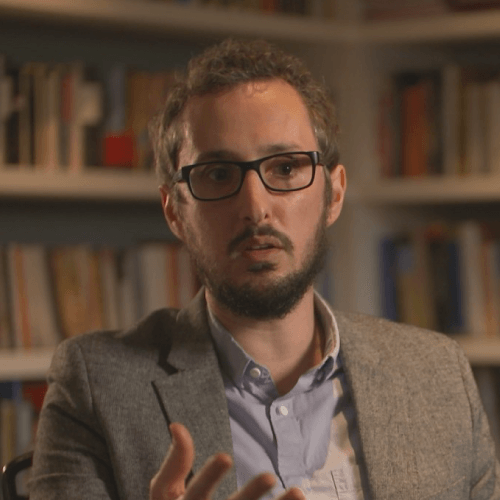 Daniel Tilles is editor-in-chief of Notes from Poland and assistant professor of history at the Pedagogical University of Krakow. He has written on Polish affairs for a wide range of publications, including Foreign Policy, POLITICO Europe, The Independent and Dziennik Gazeta Prawna.