Japanese viewers are being treated to frozen recreations of two Warsaw landmarks, the Palace on the Isle and Chopin monument, to commemorate the centenary of diplomatic relations between Poland and Japan.
As part of the annual Snow Festival in Sapporo, a special "Polish Square" has been created featuring ice sculptures of the two attractions, the originals of which are both found in Warsaw's Łazienki (Royal Baths) Park.
The Palace on the Isle, a 17th-century classicist building that once belonged to Polish King Stanisław II Augustus and narrowly escaped destruction during World War Two, has been reproduced on a 1:1 scale.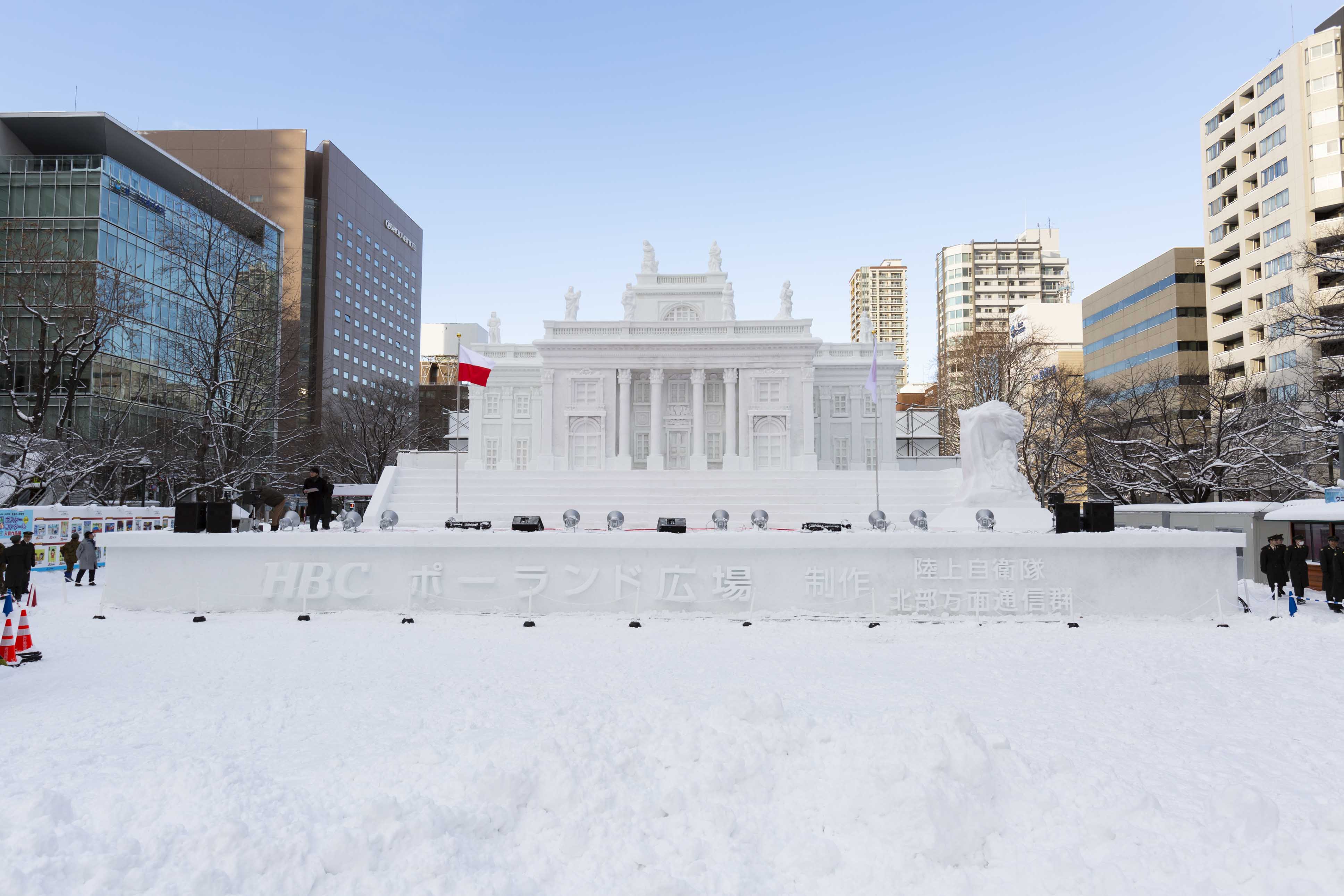 The Chopin monument, a tribute to the great Polish composer, was recreated in smaller form than the original. Japan is already home to a permanent bronze replica of the statute, in Warsaw's sister city of Hamamatsu.
The two ice sculptures were built in 28 days, with 100 soldiers from the Japanese Self-Defense Forces involved in their construction, reports Gazeta Wyborcza. Their unveiling on Tuesday was attended by Poland's ambassador, Paweł Milewski.
The festival is also set to feature other Polish cultural events, including a performance by a dance group from Hokkaido that specialises in Polish folk dances, as well as a Chopin concert by pianist Michał Sobkowiak.
Meanwhile in Warsaw on 9 February there will be a demonstration of ice carving of a copy of the Chopin monument on the terrace of the real Palace on the Isle. Piano concerts will also take place inside the palace, as well as a screening of a report about the construction and unveiling of the sculptures in Sapporo.
The Snow Festival, which has been held annually since 1950, attracts up to 2 million visitors a year. There are around 200 sculptures at this year's event, created by over 3,000 workers. In previous years, the festival has included sculptures of the Forbidden City in Beijing, the Arc de Triomphe in Paris, London's British Museum, and Helsinki Cathedral. 
In recent months, Polish cultural events have proven popular across Asia. In December, a "Polish Posters for Films" exhibition opened at the National Film Archive of Japan to mark the centenary of diplomatic relations. The exhibition features 96 posters, includes some created to advertise Japanese films in Poland.
A record 500-plus pianists – half of them from Asia –  have applied to take part in the 18th edition of the Chopin competition, to be held in Poland later this year. Over 90 applicants are from Japan, while more than 100 are from China, Hong Kong and Taiwan, according to the Fryderyk Chopin Institute.
To celebrate the 100th anniversary of diplomatic relations between Poland and Japan, Kyoto Art Centre is hosting an exhibition exploring the similarities between the two nations' artistic sensibilities and cultural perception of seasons and eras https://t.co/GpfgUD6G2I

— Notes from Poland ?? (@notesfrompoland) May 7, 2019
Credit for first two images: Polish Tourist Organisation