As the United Kingdom today heads out of the European Union, Polish politicians have offered their thoughts on Brexit.
Views have been overwhelming negative, reflecting the fact that Poland has some of the highest levels of support for the EU among all member states. But there has also been some praise for Brexit, especially on the nationalist far right.
Leading figures from Poland's conservative ruling Law and Justice (PiS) party – which is losing its greatest European ally in the British Conservative Party – have expressed regret over Brexit, but also called for it to be used as an impetus for reform in Brussels.
Former prime minister Beata Szydło, who now sits as an MEP in the eurosceptic ECR grouping that was originally founded by the Tories, said that, while she respects "the sovereign choice of British citizens", their decision fills her with "regret and sadness".
The EU would have been stronger and more resilient to crises with the UK as a member, said Szydło, but she is convinced that the UK "will remain an important partner, with whom we will develop bilateral relations". She also said it would be a priority to ensure that the rights of the million or so Poles living in the UK, as well as other EU citizens, would be protected after Brexit.
Szydło's successor as prime minister, Mateusz Morawiecki, denied claims by the Polish opposition (and Nigel Farage – but more on that below) that the PiS government would also lead Poland out of the EU exit door. "Polexit is as impossible as Germanexit," said Morawiecki.
The prime minister also took the opportunity to promote a government campaign to encourage Poles in Brexit Britain to return to Poland, which he said has become "the economic heart of Europe", with "high growth, low unemployment and rising investment and salaries".
Deputy Prime Minister Jacek Sasin also saw Brexit as an opportunity, saying that it should be a wake-up call to Brussels:
We want the EU to change so that other countries do not follow the path of Britain. To strengthen the European community, we need to think about whether it makes mistakes. Brexit is a good moment to talk about this seriously.
Ryszard Legutko, a senior PiS MP, meanwhile warned that Brexit would do more damage to the EU than to the UK, which he believes will eventually "benefit" from leaving.
Britain "brought some common sense to the EU", said Legutko. Now there are already "voices saying that without the UK…we can speed up" the process of "becoming more centralised", something PiS does not want.
While Legutko noted that Poles are "very attached to the EU and it is not in our interest to leave", he also warned that the mood is changing: "There are a growing number of people disappointed in the EU policies of recent years. This is the doing of such people as Frans Timmermans and Guy Verhofstadt".
In actual fact, polls have shown growing trust in and support for the EU in Poland, as we reported yesterday.
On the other side of the political divide, Małgorzata Kidawa-Błońska, who is the presidential candidate of the main opposition party, the centrist Civic Platform (PO), flew to the UK today to meet with the Polish community.
"Poles in the [British] Isles expect some support due to the fact Brexit is taking place, that their rights will be respected," said Kidawa-Błońska's spokesman. "They expect some dialogue with the Polish authorities."
However, government-aligned media in Poland were quick to remind Kidawa-Błońska of the fact that in 2017 she appeared to blame Polish migration to the UK for Brexit, saying: "Let's not lie, the reason for Brexit was also that Poles began to work en masse in Great Britain."
Among the few to openly celebrate Brexit was Krzysztof Bosak, an MP from the far-right Confederation. He was recently chosen as the party's presidential candidate, promising to restore Poland's independence, which he said has been "given to Brussels".
"Congratulations Great Britain!" tweeted Bosak in English. "God bless sovereign states! Let's make Europe great again!"
Congratulations Great Britain! God bless sovereign states! Let's make Europe great again!

— Bosak Krzysztof🇵🇱 (@BosakKrzysztof) January 30, 2020
Meanwhile, Poland made an appearance in the departing words of Nigel Farage, the Brexit Party leader and MEP, who predicted that it would be among the next three countries to leave the EU (alongside Italy and Denmark).
The way "in which Poles are reprimanded and repeatedly insulted by people such as [European Commissioner Frans] Timmermans is a bit too much for them to bear, taking into account their difficult and complicated history," said Farage, who compared the EU to the period of communist rule in Poland.
This is not the first time that Farage has suggested Poland could follow the UK through the exit door. In December, he tweeted that a poll showed "more Poles now want to leave the EU than remain". In fact, as we explained at the time, his words were based on a false interpretation of the findings.
Poland consistently ranks as one of the most enthusiastic member states. Eurobarometer found this year that 68% of Poles believe EU membership to be a good thing for their country, with only 5% seeing it as negative. If a referendum on EU membership were held, 76% of Poles say they would vote to remain and only 9% to leave.
Main image credit: Flickr/Marco Verch (under CC 2.0)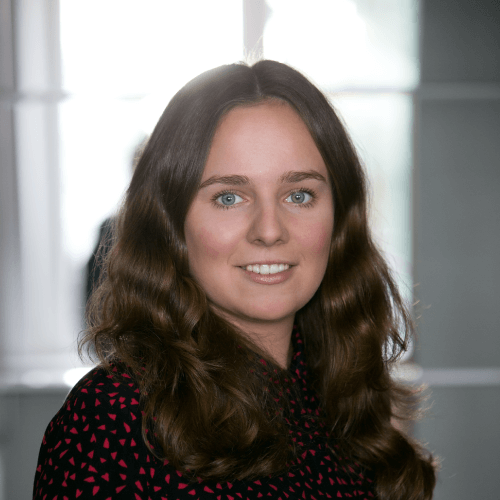 Monika Prończuk is the deputy editor of Notes from Poland. She was previously the Nico Colchester fellow at the Financial Times, acting FT Poland correspondent, and journalist at OKO.press, an independent fact-checking media outlet. Her articles have appeared in Quartz, Financial Times, Politico, Gazeta Wyborcza and Tygodnik Powszechny.