By Percy Metcalfe
Every Sunday afternoon since 2017 a group of international volunteers, along with a smattering of locals, have gathered outside Warsaw's iconic Palace of Culture and Science to serve hot food and tea to the city's poor and needy, as well as, more recently, to provide them with warm clothes and haircuts.
They call themselves Smile Warsaw, a name they live up to by exhibiting unending friendliness and a commitment to welcoming everyone. The group was founded by two Brits, Andy Eddles and Piotr Podworski, and an American, Caleigh Furlong, who decided to break off from another organisation, Warsaw Seva, that carried out a similar function within a Sikh religious context.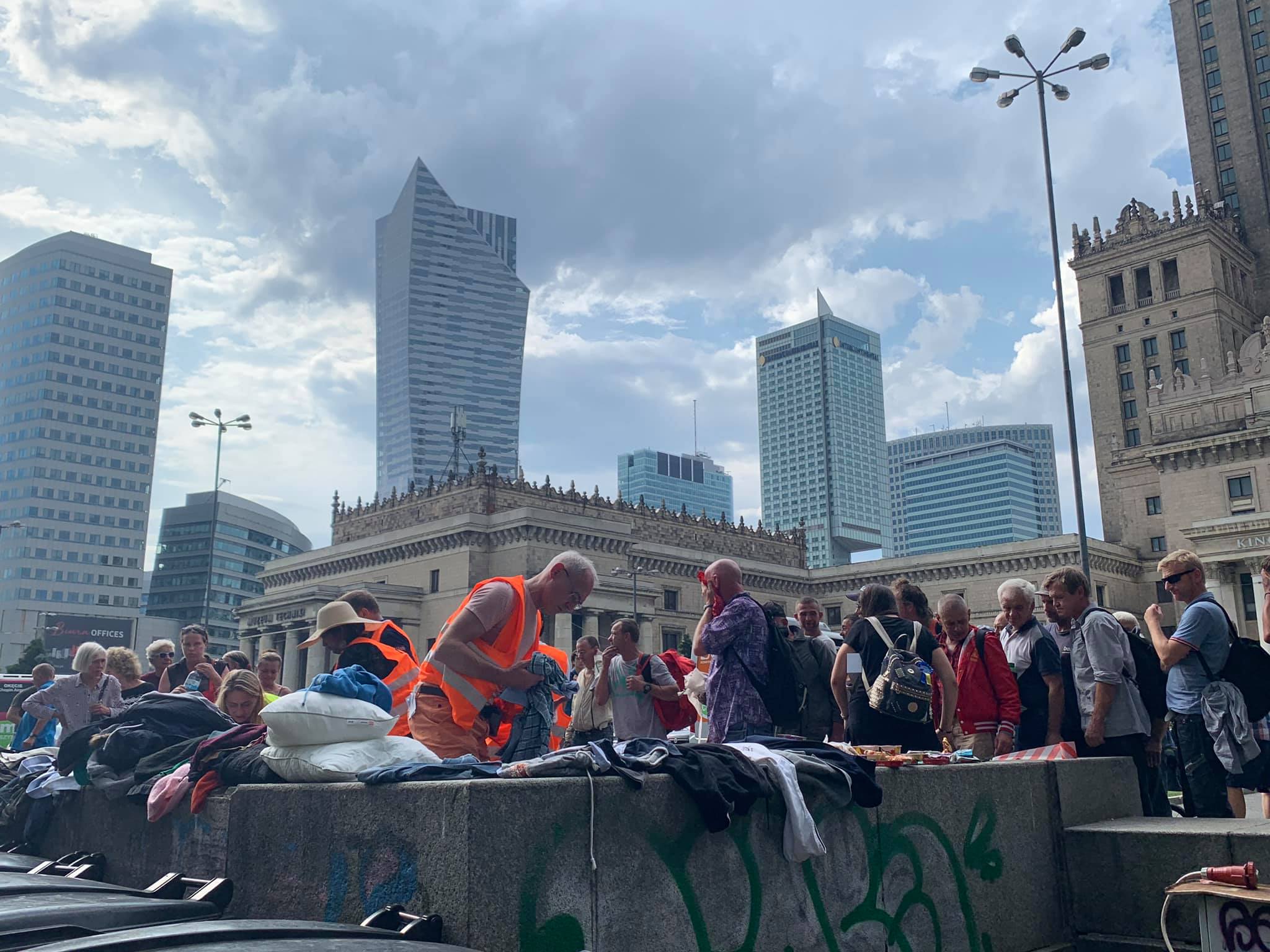 Smile meet every Sunday in front of Warsaw's iconic Palace of Culture and Science
Podworski explains that they wanted to create something that was "non-religious" so that anyone would be comfortable participating, either as a volunteer or as a guest, as they refer to their clients, who form long lines waiting for the hot vegetarian meals that are on offer.
"It gave us something to do," remarks Eddles modestly when asked what prompted the three founders to undertake this weekly logistical headache. "And there are lots of beggars in Warsaw, so it seemed obvious."
He estimates that of the roughly 150 guests who attend the Smile meetings each week, 40% are "genuine rough sleepers" who find themselves bedding down each night in parks, metro stations, out in the open, or in sheds that they have broken into. The rest "are just really poor and need the assistance," he explains.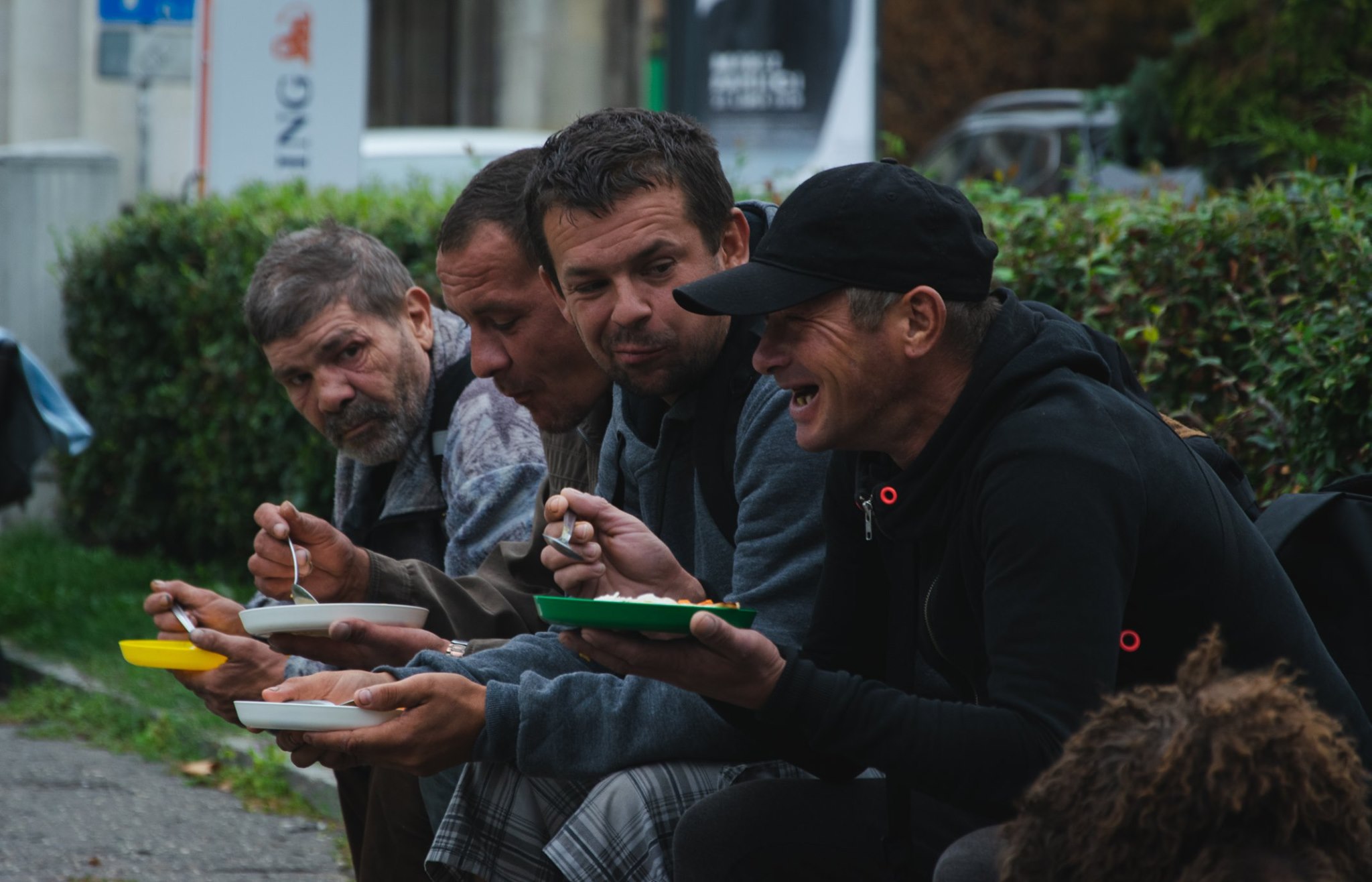 Some of Smile's guests
"When it's minus stupid degrees Celsius" says Eddles, "breaking into a działka [allotment] for safety and warmth is necessary." He notes that for Warsaw's nearly 3,000 homeless there are very few options: they are "constantly hassled by police and asked to move on."
Smile Warsaw has been given a warm welcome by the city. Every week they receive support from a number of businesses: the main meal is prepared by the Indian Taste restaurant; tea and a clothing drop-off point are offered by Legends, a British pub and restaurant; cutlery comes from The Alchemist, a gastropub that also does the washing-up; and Less Mess, a storage provider, allows the group free use of their space to hold their equipment.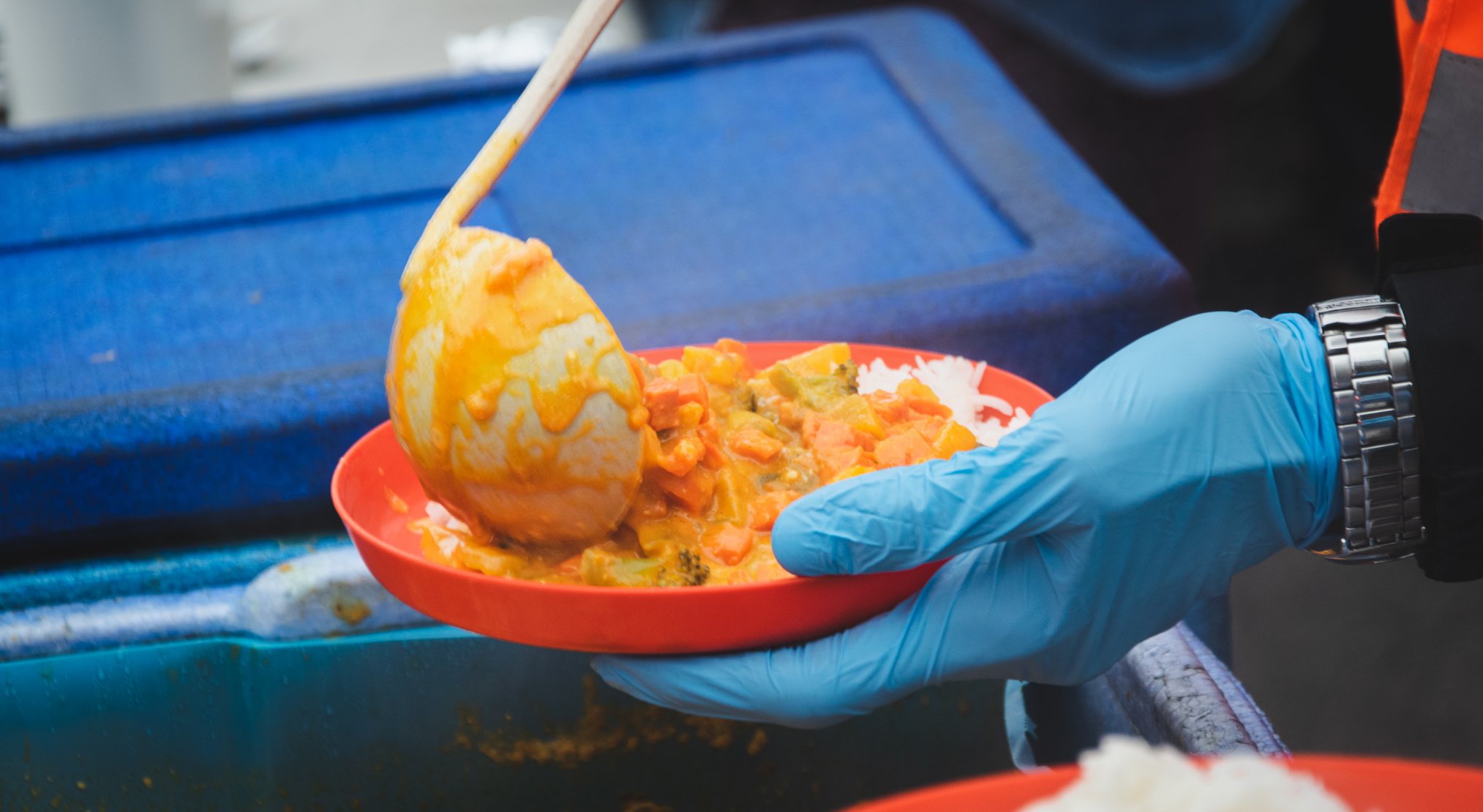 Food is provided by a local Indian restaurant
Smile Warsaw's cadre of volunteers is remarkably international. Brits, Ukrainians, Emiratis, Saudi Arabians and Indonesians, among others, all gather each week, together with Poles, to give back to the city that has become their home.
The Vietnamese contingent is particularly numerous. Eddles reports that initially there was little interest from Poland's largest non-European immigrant group, but the arrival of volunteer Nam Phong in the city two years ago changed that dynamic.
"I knew nothing about Poland when I came here," says Phong. "I saw Smile on Facebook and became the first Vietnamese person to come and help. I told other Vietnamese people and they came too."
Phong now sits on the organisation's management board and has succeeded in getting sustained engagement from his compatriots, who make up a sizeable chunk of the volunteers. In May, Smile served up Vietnamese chicken stir-fry shrimp noodles with drinks provided by Asia Market and Viet Station.
Last Sunday, 17 November, was "World Day of the Poor", a Catholic event proclaimed in 2017 by Pope Francis. So the 30-40 regular Smile volunteers were joined by helpers from Caritas, the Catholic charity, as well as organisations that support homeless people, Fundacja Daj Herbatę, Ambulans z serca karetka dla bezdomnych, and the po DRUGIE foundation.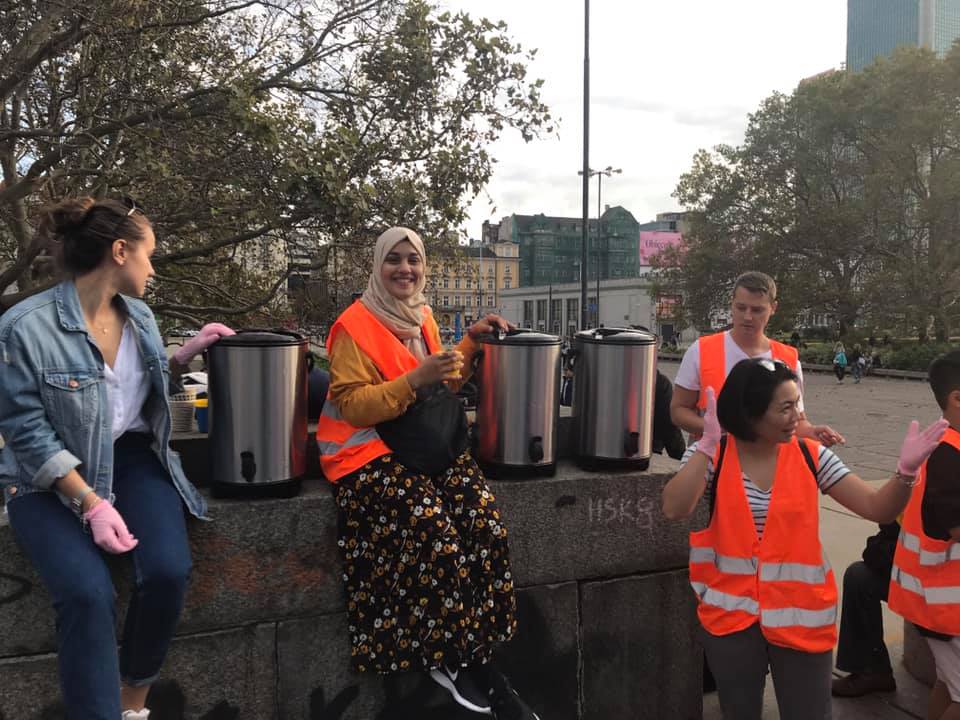 Hot tea is also on offer
Smile's diversity, as many of the organisers and volunteers report, is what keep people coming each week. Some volunteers, such as Adam, a British student who is still in secondary school, have made it a consistent hobby. "I've missed only one week in a year," he proclaims proudly.
While discussing what sets them apart from other similar organisations, Furlong notes, "we're friendlier. We don't turn anyone away. We don't have an agenda. But it also has something to do with the expats, who all seem to like each other."
Abdullah, a student at the Medical University of Warsaw from Dubai, remarks that he "found it to be a great atmosphere with a lot of diversity and an opportunity to make friends." He explains that for him it provides a boost on a cold and gloomy Warsaw winter day and a chance to meet people who he otherwise never would have crossed paths with.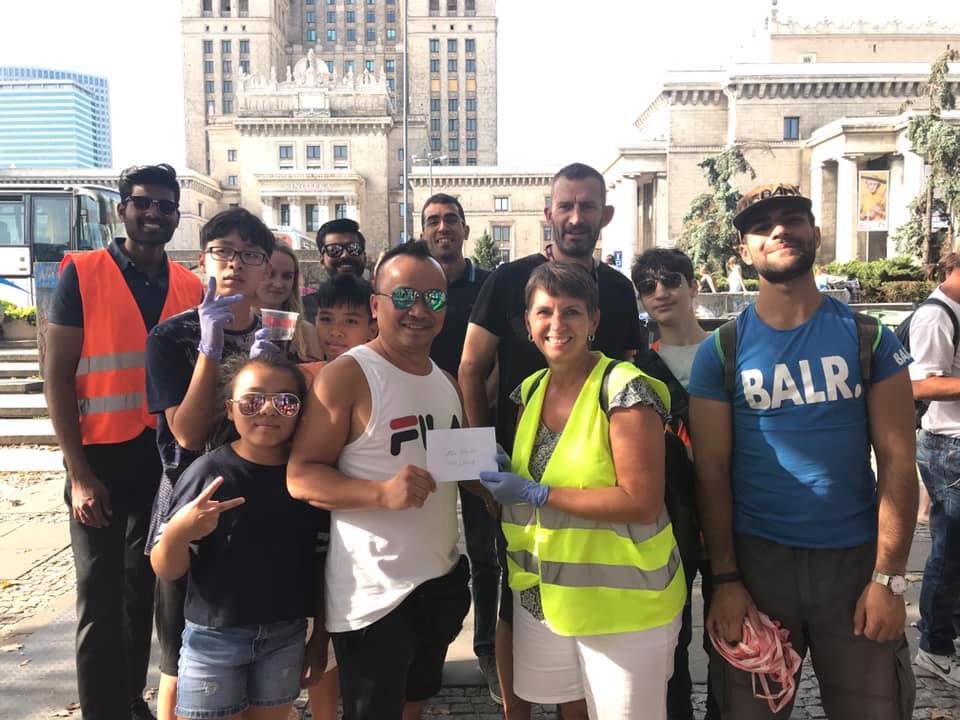 Volunteers praise the diverse, friendly atmosphere
Marcin Brdys, who is from Poland but spent several years in the United Kingdom, explained that he thought people – both guests and new volunteers – respond positively to such a diverse group helping out anyone who needed it.
"Poverty is everywhere. It doesn't matter where you are from. It looks the same. It smells the same. It is the same. You cannot focus on one group or another, and people respond to this kind of kindness," says Brdys.
Rafał, a barber and rough sleeper himself, started coming to Smile as a guest over a year ago. He was overwhelmed by the welcome he experienced and began volunteering to cut hair for the other guests. While helping to clear up after last Sunday's event, he explains in Polish with some glee, "Everyone here knows me now."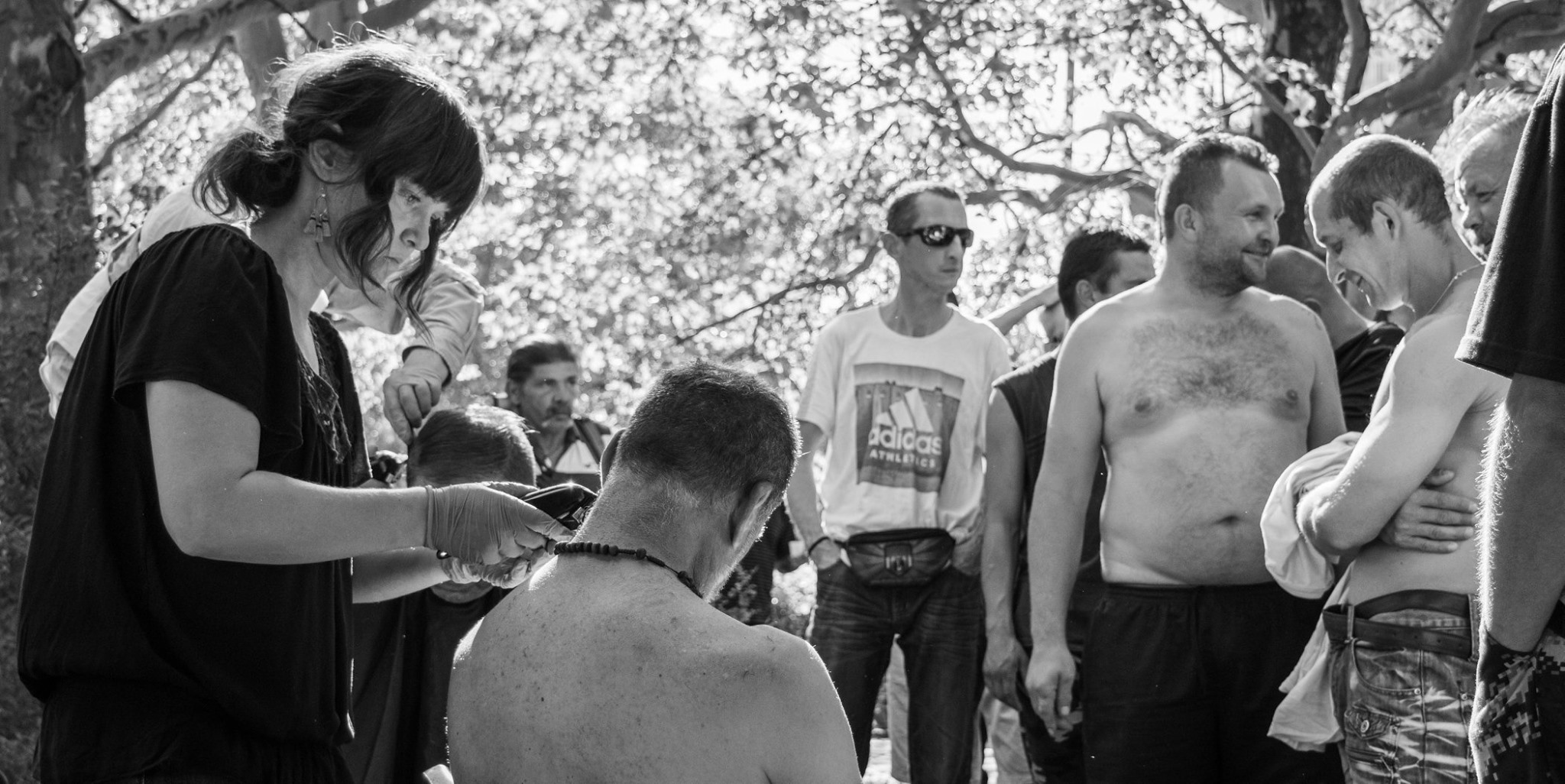 Guests are also offered haircuts and a shave
Smile Warsaw is active on Facebook, where details for donation are available. They meet every Sunday from 3.45 pm until around 4.45 and accept clothing donations at The English Primary (Rzodkiewki 18), The English Playhouse (Płyćwiańska 14), and Legends Bar (Emilii Plater 25).
Smile also accepts toiletries, female sanitary products, tents, sleeping bags, large IKEA-style carrier bags, rucksacks, and packaged foods in large quantities. As winter approaches, there is a particular need for warm large winter clothes. The group welcomes all volunteers to come join them, but there is a particular need for those who have access to a car and can drive.
Image credit: all photographs from Smile Warsaw and Zula Rabikowska.

Percy Metcalfe is an American Fulbright student located in Warsaw for the academic year of 2019/20. He is carrying out a research project on the performance of national identity in the Polish-U.S. bilateral relationship at the University of Warsaw while also working part time for Notes from Poland.