By Monika Prończuk
Law and Justice (PiS) and the United Right
A national-conservative party, PiS won the 2015 elections pledging to "bring Poland up from its knees" and "give back dignity to the people". After introducing a series of judicial reforms criticised by Brussels and the domestic opposition, PiS, along with Viktor Orbán's Fidesz, became Europe's poster boys for illiberal democracy. The reforms were described by critics as an attempt to take away the judiciary's independence, and led to a bitter feud between PiS and Brussels.
PiS is a member of the Alliance of European Conservatives and Reformists.
Leadership
Jarosław Kaczyński, a former prime minister (2006-07), became the face of the party in 2010, after the tragic death of his twin brother, Lech Kaczyński, in the Smolensk plane crash. Lech was a former mayor of Warsaw and, at the time of his death, president of the country. Although Jarosław Kaczyński does not hold any official state function, he is the de facto leader of the country, with the final say on the government's personnel and policies.
Ideology
PiS combines nationalism with social conservatism. Since returning to power in 2015, its landmark policy has been social redistribution, including the introduction of the first post-1989 unconditional and universal child-benefit programme (500 zloty, or 125 euros, per month for every child, which in proportion to the cost of living is among the highest in Europe). PiS presents itself as a fierce defender of Poland's sovereignty, values, culture and (Catholic) faith against various enemies, including refugees, the LGBT community, political correctness and the European Union.
PiS has also lowered the retirement age (which was previously increased by the PO government) and provided extra pension payments. It has strong links with the Catholic Church, a very influential institution in Poland. It defends the heavily coal-dependent model of the Polish energy sector.
In foreign policy, PiS favours strengthening ties with the United States, which it sees as the primary guarantor of Poland's military security.
Manifesto
In its electoral manifesto, PiS promised to raise the minimum wage to 4000 zloty a month by 2023 (almost double the present figure), and to give two extra monthly pension payments to retirees. The party also pledged to protect the traditional family model and Catholic values, and to continue its judiciary reforms, which have brought it into conflict with the European Union. Prominent party members also promised to "re-Polonise" and "take back control" of the media after a victorious election.
Election result
PiS got 43.59% of votes in the parliamentary elections, more than any party has achieved in the post-1989 period. This, however, only translated into 235 seats, the same as its share in 2015. This means they have a majority and can form a government by themselves, but they do not have enough seats to change the constitution alone, which requires a two-thirds majority in parliament. In the Senate, PiS lost its previous majority, winning 48 seats, with the number of opposition and opposition-aligned independent senators amounting to 52.
Following the announcement of results, Kaczyński said, clearly disappointed, "We deserve more".
United Poland and Agreement
It is often forgotten by international commentators (and indeed some in Poland) that PiS rules at the head of a coalition, known as the United Right, with two smaller right-wing parties. In last month's elections, these two groups doubled their number of seats in parliament, putting their leaders, Justice Minister Zbigniew Ziobro and Deputy Prime Minister Jarosław Gowin, in a stronger position within the ruling camp.
What to expect
Despite Kaczyński's disappointment, PiS has been emboldened by this election result and will continue its reform – or deform, as opponents see it – of the Polish state and its institutions. Think more social redistribution (extra pension payments); more judicial reforms (as recently announced by Prime Minister Mateusz Morawiecki), including nominating controversial figures as Constitutional Tribunal judges; and defending coal – despite the creation of a brand-new Climate Ministry.
PiS will, however, face a more difficult balancing act in the new parliament given the entry of far-right and left-wing parties, which had been absent during the last term. The far-right Confederation (see below) has already signalled that it will put pressure on PiS on controversial issues it has sought to avoid, such as restricting abortion even further and Jewish property restitution.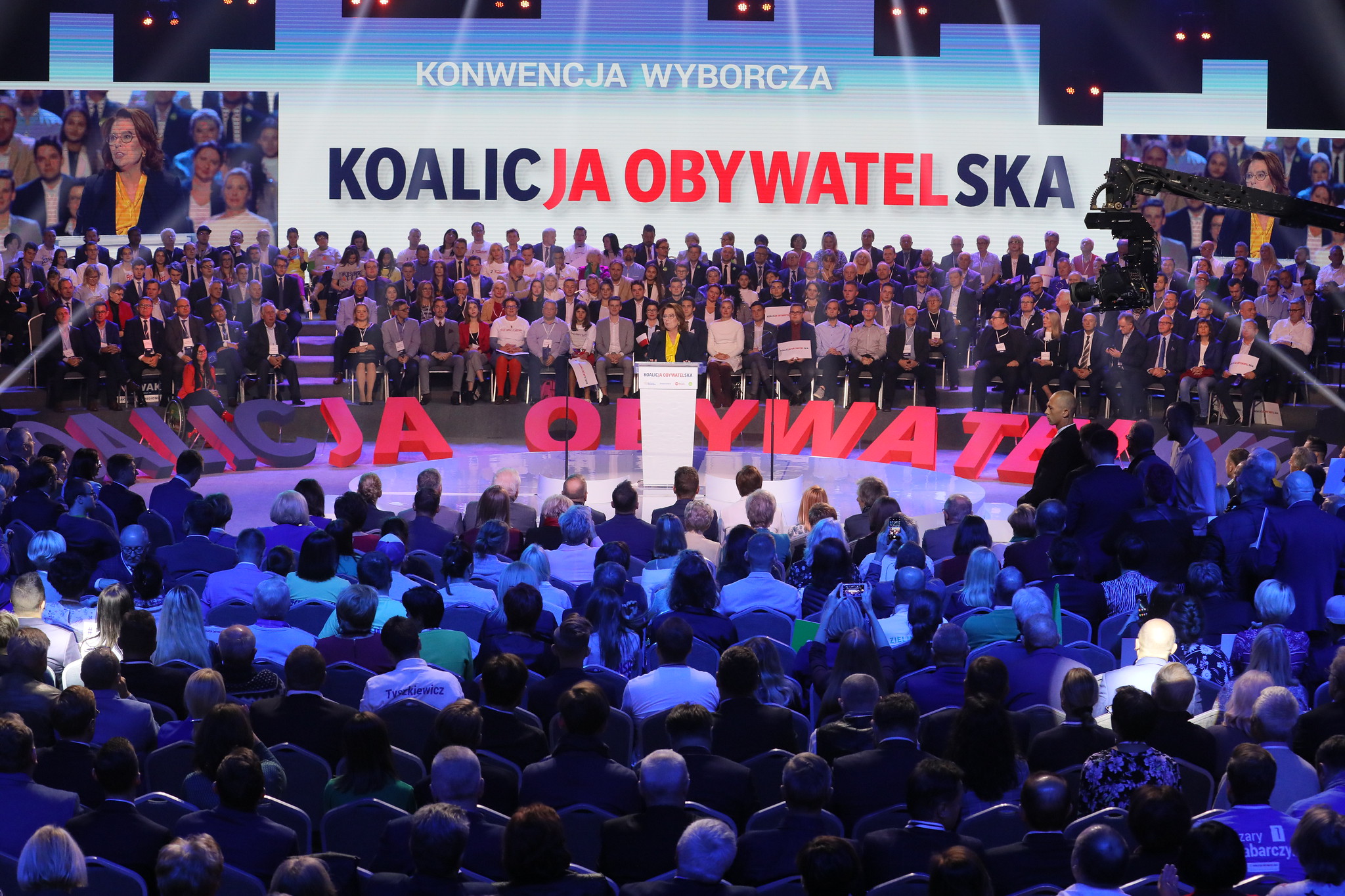 Civic Coalition: Civic Platform (PO), Modern, Greens and Polish Initiative
PO is a centrist party, which ruled Poland between 2007 and 2015, mostly under the leadership of Donald Tusk, who left in 2014 to become the President of the European Council. Following his departure, PO, led by Ewa Kopacz, was defeated in the 2015 elections by PiS, which has remained in power ever since.
Ideology
PO's origins are surprisingly close to those of PiS – it can be traced back to the conservative, centre-right milieu of post-Solidarity. It is, however, accused by PiS of being a part of the "post-communist establishment" that Kaczyński claims has engineered and exploited Poland's transition since 1989. PO is still a big tent, containing a range of ideological factions, but its centre of gravity has moved towards the centre from its centre-right origins.
PO represents a liberal economic position (low taxes, support for entrepreneurship, faith in the free market) and a moderately conservative approach on social issues, such as abortion (it supports Poland's existing abortion "compromise", which in reality is among the strictest laws in the EU), LGBT rights (although recently the party's leader announced support for same-sex civil unions) and the environment.
At the same time, the party is strongly pro-Western and pro-European, highlighting the importance of diversity, rule of law and free media for a well-functioning Polish society.
Leadership
PO's leader is Grzegorz Schetyna, who was selected after the 2015 election defeat. Known as a backroom dealer, he is accused by critics of lacking the necessary charisma and efficiency to lead the divided opposition. In the aftermath of what was widely perceived as the opposition's failure in local and European elections, Schetyna was replaced as the opposition's candidate for prime minister in the parliamentary elections by Małgorzata Kidawa-Błońska, who is regarded as a more popular and less divisive figure than Schetyna.
However, following another defeat in those elections, Schetyna has faced further questions about his leadership, with some senior figures in the party publicly suggesting he should consider his position and press reports of potential leadership challengers.
Modern (Nowoczesna) is a liberal party that was created in 2015 by former World Bank economist Ryszard Petru, who led it into parliament later that year. Following a series of gaffes, controversy over his private life and falling poll numbers, Petru was replaced by current leader Katarzyna Lubnauer. Modern supports both liberal economic and social policies, but is now very much the junior partner in its coalition with PO.
Manifesto
The Civic Coalition promised to restore democracy and the rule of law following four years of PiS rule, as well as to promote further European integration. It wants to boost employment through reducing income tax, as well as introducing an additional financial benefit for those earning the minimum wage. It also pledges to get rid of the Sunday trading ban introduced by PiS and to restore state funding for IVF procedures, which was scrapped under PiS. In terms of energy, it promised to eliminate coal by 2040. Most recently, Schetyna announced the party's plan to legalise same-sex civil unions.
Election result
27.4 % of votes, giving them 134 seats in parliament – in line with pre-election expectations. The Senate election results were better than expected, with Civic Coalition obtaining 43 seats itself and other opposition parties (with whom KO had made a pact not to stand against one another) winning a further five seats (four senators are officially independent). The Senate has the power to delay legislation and to make it harder for the ruling party to implement swift changes to legislation.
What to expect
Following a fifth successive election defeat since the start of 2015, the Civic Coalition, and in particular the PO party that dominates it, faces big questions over its future direction. While its failings have been in part due to the policy successes and effective campaigning of PiS, there is also a sense that PO no longer knows exactly what it stands for. It has struggled to find a clear and consistent narrative since 2015.
With potential leadership challenges to Schetyna, as well as broader debates over the party's future approach, Poland's main opposition may be too distracted to effectively hold the government to account. It may also face challenges in choosing a candidate for the 2020 presidential elections that can win the support of the entire Civic Coalition, let alone the external voters needed to defeat incumbent Andrzej Duda.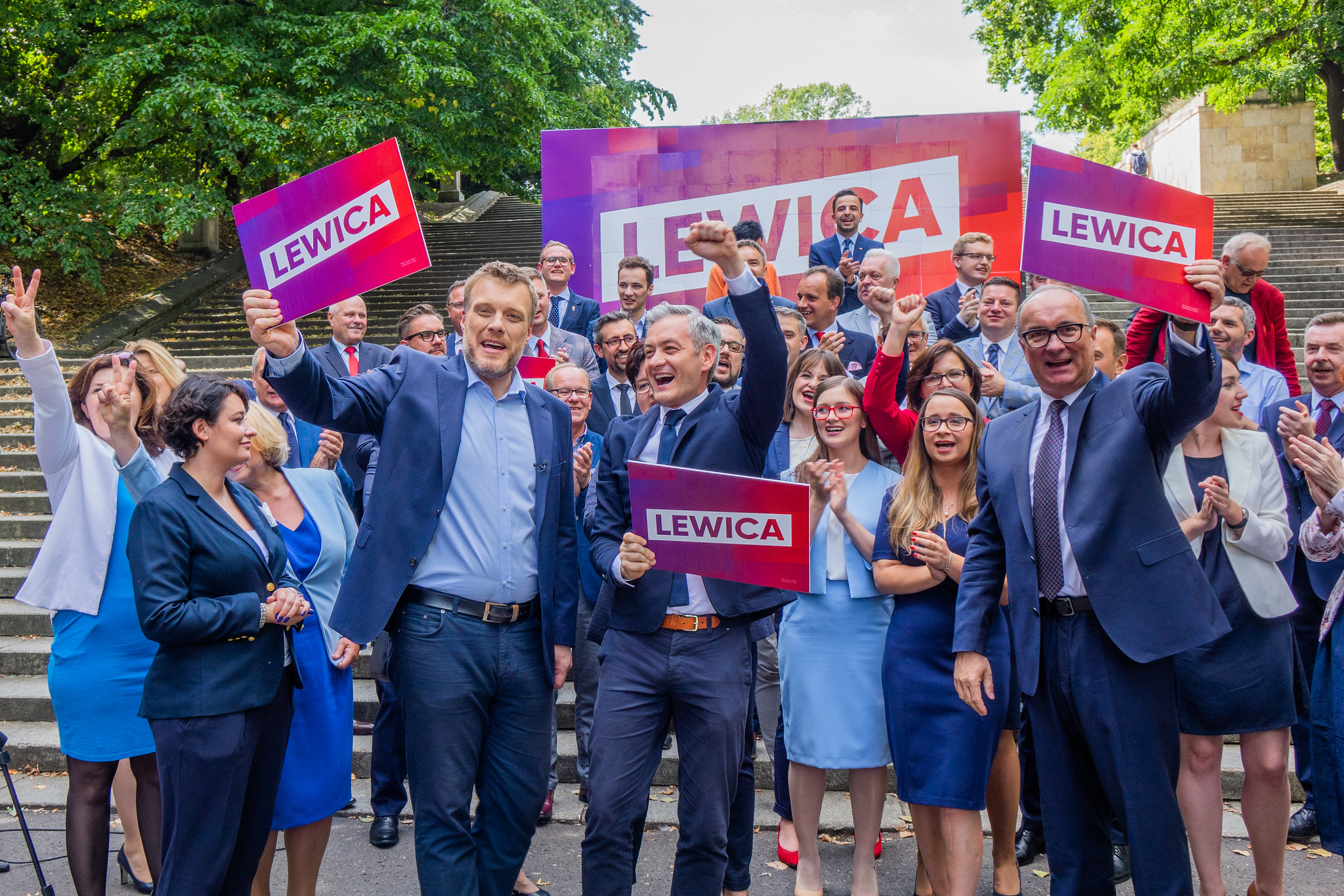 The Left
Following the failure of the left to win any representation in parliament at the 2015 elections, Poland's three main left-wing parties chose to stand together this year, ensuring they would pass the electoral threshold.
Democratic Left Alliance (SLD)
SLD is a centre-left party, also known as post-communist due to its founders and some of its supporters having their roots in Poland's former communist party. SLD used to be one of the main political players in Poland, leading governments in the 1990s and early 2000s. But after a 2002 corruption scandal, its popularity plummeted. The party is led by Włodzimierz Czarzasty.
Spring (Wiosna)
Spring, a progressive party, was established before this year's European elections by Robert Biedroń, a former mayor and LGBT rights activist. It won 6% of the vote and three seats in the European Parliament at those elections. Despite initial talk of fostering a new type of politics and spurning coalitions with older parties, falling poll numbers pushed Biedroń into his current alliance.
Together (Razem)
Together was the first party to be described as "the new left" in Poland, completely separate from the post-communist heritage. Although not formally having a single leader, its undoubted figurehead is Adrian Zandberg, who sprang to national prominence following a strong performance in a televised debate ahead of the 2015 elections. However, after subsequently failing to pass the electoral threshold, Together struggled to gain visibility and media coverage, pushing it rather reluctantly into the current alliance.
Manifesto
The Left Alliance promised liberalisation on the social front: loosening Poland's strict abortion law; improving access to contraception and sexual education; strengthening LBGT rights, including seeking to eventually introduce same-sex marriage. It also pledged free nurseries, free meals for children at schools and free public transport for the elderly.
Election result
12.56 % of votes, which translates into 49 seats in parliament. This is considered a victory, taking into account the fact that both the SLD and Together failed to pass the 5% threshold in the previous election, and therefore did not win any parliament seats.
What to expect
The SLD and Spring are currently planning to merge into a single parliamentary caucus with a new name. Whatever structure they are in, expect the Left's MPs – many of whom are young, new faces – to advocate socially liberal policies (despite knowing they have no chance of passing). They will also offer an alternative to PiS's redistributionist policies, to which the centrist, economically liberal opposition struggled to respond during the last parliamentary term.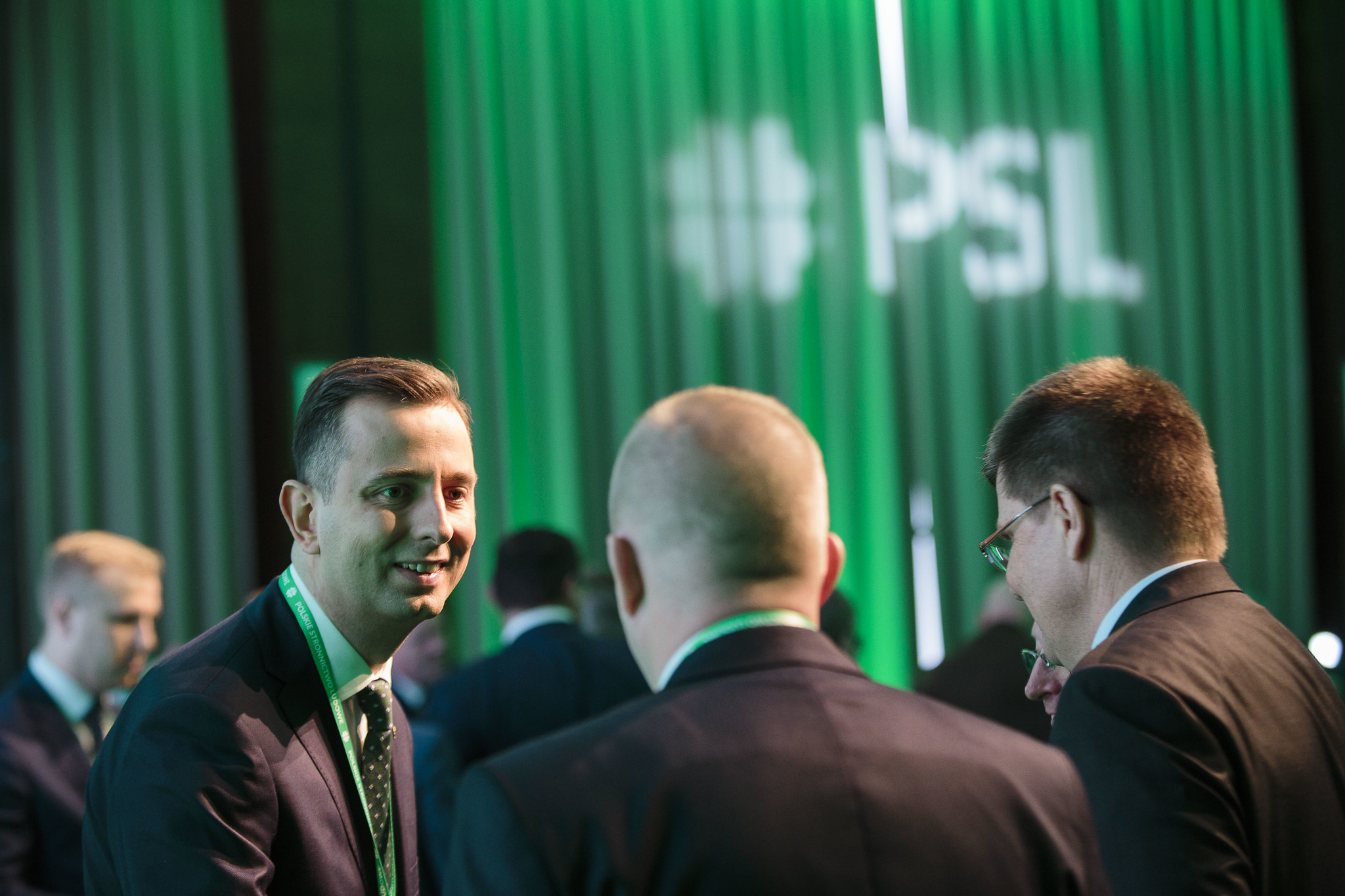 Polish Coalition: Polish People's Party (PSL) and Kukiz'15
PSL is an agrarian, Christian-democratic party strongly based on local structures. Its traditional electorate lies in rural Poland, especially the east of the country, where it competes with PiS for votes.
Ideology
The PSL advocates state protectionism in agriculture, and opposes abortion, same-sex civil unions and euthanasia. Despite being very conservative on social issues, in the past it formed coalition governments with the centre-left SLD and centrist PO.
Leadership
Since 2015 it has been led by Władysław Kosiniak-Kamysz, who, at just 34 years of age when he was chosen, is surprisingly young by the standards of Polish politics and of the PSL. He is a respected figure among the Polish opposition, and his name is regularly mentioned as a potential opposition candidate for next year's presidential elections.
Kukiz'15 is not registered as a political party, but as an association. It is a populist, anti-establishment movement, led by former punk rock star Paweł Kukiz. The group has brought together a disparate collection of figures, including members of far-right groups who were elected as MPs on the Kukiz'15 ticket in 2015.
Manifesto
The Polish Coalition wants to strengthen direct democracy, especially through the role of public referenda (a long-standing demand of Kukiz). It also wants to scrap the tax on pensions, and make social insurance voluntary for entrepreneurs.
Election result
8.55% in the parliamentary elections, which gives them 30 seats. This was deemed a good result, given that some pre-election polls predicted the PSL would barely pass the 5% threshold. The PSL also secured three seats in the Senate.
What to expect
Kosiniak-Kamysz has already announced there will be a change in the name of the parliamentary caucus, to properly mark the coalition with Kukiz. He has also promised a prominent role for Kukiz, either as the chair of the caucus, or as the deputy-speaker of the Sejm. This shows the PSL's willingness to go beyond its traditional electorate in the countryside, where it faces a strong challenge from PiS.
Confederation Freedom and Independence (Konfederacja)
A far-right, Eurosceptic party, which brings together the National Movement, a nationalist group led by Robert Winnicki, and the followers of Janusz Korwin-Mikke, a veteran right-wing libertarian.
Leadership
Confederation's three main leaders, Korwin-Mikke, Winnicki and Grzegorz Braun, are highly controversial figures on the Polish political scene, having variously expressed antisemitic, Islamophobic, disablist and misogynistic views.
Manifesto
Confederation wants to completely eliminate income tax, as well as to make social insurance voluntary (it is now obligatory for all students, business owners, and those in formal employment). It opposes Poland adopting the euro currency, accepting migration from outside of the European Union, and "LGBT and gender ideology". It also pledges to liberalise gun access, to "protect" Poland from Jewish restitution claims, and to strengthen Christian values and the traditional family model.
Election result
The recent election was a huge success for Confederation, as until the last moment the pre-election polls put it around, or even below, the 5% threshold required to enter parliament. In the end it got 6.81% and won 11 seats.
What to expect
Ahead of May's European elections, one of the group's leading figures summed up its main policies as: "We don't want Jews, homosexuals, abortion, taxes and the European Union". In a recent interview with Rzeczpospolita, Janusz Korwin-Mikke, Confederation's leader, announced their plans to propose an "anti-LGBT law" that would "ban LGBT". It will also put forward measures to restrict abortion and to prevent "the Holocaust industry" from using a new American law to profit from Jewish property restitution in Poland.
Main image credit: Kancelaria Sejmu / Rafał Zambrzycki / Flickr (under CC BY 2.0)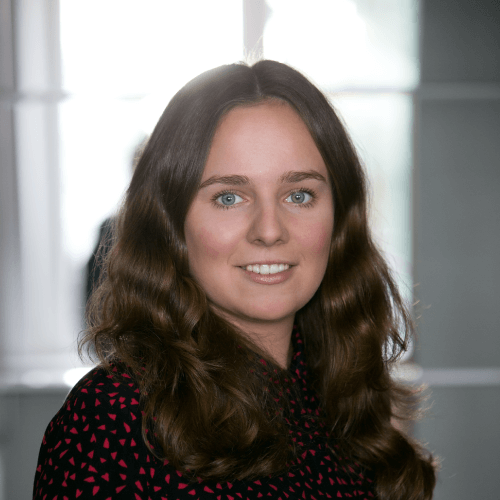 Monika Prończuk is the deputy editor of Notes from Poland. She was previously the Nico Colchester fellow at the Financial Times, acting FT Poland correspondent, and journalist at OKO.press, an independent fact-checking media outlet. Her articles have appeared in Quartz, Financial Times, Politico, Gazeta Wyborcza and Tygodnik Powszechny.